A Who's Who | Teachers at YAK
One of my favourite things about knitting is that there is always something new to learn. There are still so many techniques and different ways of doing things, different traditions old and new that just saying "I can knit" doesn't explain much. We are so lucky in Brighton to have many knowledgeable and talented people, each with their own specialities who are willing to impart some of their knowledge so we can all improve and keep learning.  This is why, instead of just listing our upcoming classes, I thought I would introduce you to these wonderful teachers, both new and returning, who we will be hosting at YAK this term.
Suzanne Stellard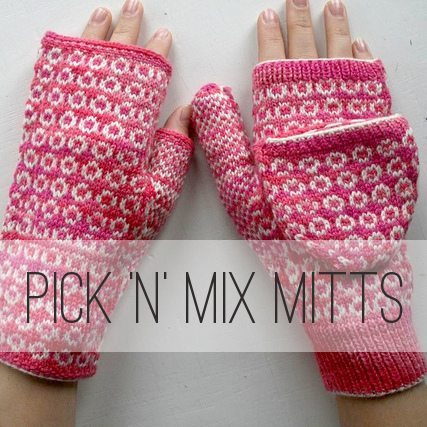 Suzanne is an artist and patten designer who spends her time between Reading and Brighton. Her designs are inspired by the world around her; tv, nature, paintings, all sorts and she gives off the sense that there isn't anything she hasn't tried. Suzanne loves to go rouge with knitting patterns, in a sensible, mathematical way, of course and at our monthly Knit Surgery she will help you get out of any pickle you've found yourself in. The half hour one on one's are the perfect amount of time for a little refresher, working out where you are in your pattern or help with grasping a new technique.
Suzanne's other class which went down a storm last year was her Pick 'n' Mix Mitts. Learn to do stranded colour work while choosing your own perfect combination; mitts, thumbs, pop-tops and a choice of different edgings. Check out the great reviews! New for this year Suzanne will be hosting a new class at YAK, I can't say too much yet as it's not all finalised but I will say this, it might involve a picnic on Brighton Beach…
Lucinda Guy
Lucinda got in touch with me at the back end of last year and brought in some of the most stunning samples I've ever seen. She is a specialist in Northern, Scandinavian and Baltic hand knitting which uses some of the most beautiful techniques and colour work. As well as a pattern designer Lucinda is also an author and her titles include the wonderful Kid's Learn to Knit and Kid's Learn to Crochet.
Last term Lucinda came and did a cutting & steeking workshop. It was a fabulous class, a great introduction and practical guide to the whys and hows of cutting your knitting. You can see the reviews on the class page and we will be running the workshop again on the 6th & 13th March. As well as the steeking workshop this term Lucinda will be doing two new workshops at YAK. The first is Swedish Twined Knitting is a technique which creates a wonderfully firm and double thick fabric. A great technique that is ideal for making mittens and socks and will be running on the 30th January. The second workshop is Decorative Estonian Cast Ons where you will learn some of the many stunningly beautiful and original decorative cast on techniques used for traditional Estonian knitted mittens, socks and sweaters. This workshop will run on the 28th February.
Peri Lainchbury
Peri is out resident tutor at YAK. She does most of our classes, beginners, improvers, socks and much more. After learning to knit and crochet over 40 years ago Peri been working with yarn to create colour and texture for most of her adult life. Her knitting passions lie with lace and complex socks. As well as teaching at YAK Peri also dyes yarn, designs patterns, spins weaves and even has time for a bit of sewing!
Peri's most popular classes are Next Steps in Knitting, Beginner Socks, Introduction to Lace Knitting and Learn to Knit Continental. We've got loads of dates coming up, it's the perfect time to get started if you're a beginner!
Tom van Deijnen
Also know as Tom of Holland, Tom is a self-taught knitter from The Netherlands, who now lives in Brighton. It is technique and tradition which drive his focus and he loves to explore the meaning behind garments and his relationship with the clothes he wears. This has led to the Visible Mending Programme, through which Tom provides mending and repair inspiration.
We are really excited that Tom will be débuting a new workshop of his at YAK on the 6th March. Big Holes will teach you how to repair holes that are too large for the regular stocking darn using three different techniques. This will be the first time Tom will have taught this so we are offering the class at a discounted price as Tom warns, there may be some wrinkles to iron out.
Bristol Ivy
Another exciting addition to this terms class offerings comes from Bristol Ivy. Over from Portland, Maine in the US, Bristol will be joining us in Brighton for two of her most popular classes. Well known for her knitting pattern designs which have been published in in Amirisu, Brooklyn Tweed Wool People, Quince & Co and many more, Bristol focuses her work is on innovative techniques paired with classic tailoring. And if you love cats be sure to follow her on Instagram, her little kitty is a cutie!
Bristol will be teaching her Reading Your Knitting class on the 15th March. This class is for anyone who is tired of feeling a bit lost when they pick up their knitting. Her second class will be an Introduction to Brioche class on the 16th March which will be a great opportunity to learn this highly popular stitch.
Hopefully have something for everyone. It's going to be an exciting term, lots of new techniques to learn, new people to meet. There is however one thing missing you may have noticed, and that is crochet. Are you an expert crocheter? Have you taught crochet before? Would you be interested in teaching at YAK? We are on the look out for crochet teachers, both for regular monthly classes and for special one off workshops. If that sounds of interest please get in touch.