Beehive Yarns Audrey Sets 2022 Collection: Pattern Inspiration
This week we had the pleasure to bring back the gorgeous Beehive Yarns Audrey Sets in 5 brand new
colourways. Like last year each set comes with 100g (425m) of a main, variegated yarn alongside three complimentary mini skeins each of 25g (85m). All together that's 680m of hand dyed yarn goodness! ⁠These sets are created on Beehive Yarn's Audrey base – a classic sock combination of 75% super wash Merino and 25% Nylon. Need some inspiration on what to make with these sets? Then keep scrolling!
These lovely little mitts may only use two colours, but the pattern could easily adapted by combining several of the minis in the stranded motif – either applied as a fade or in stripes. Monika has also designed a matching hat and a cowl and one set would be enough to knit all three patterns together.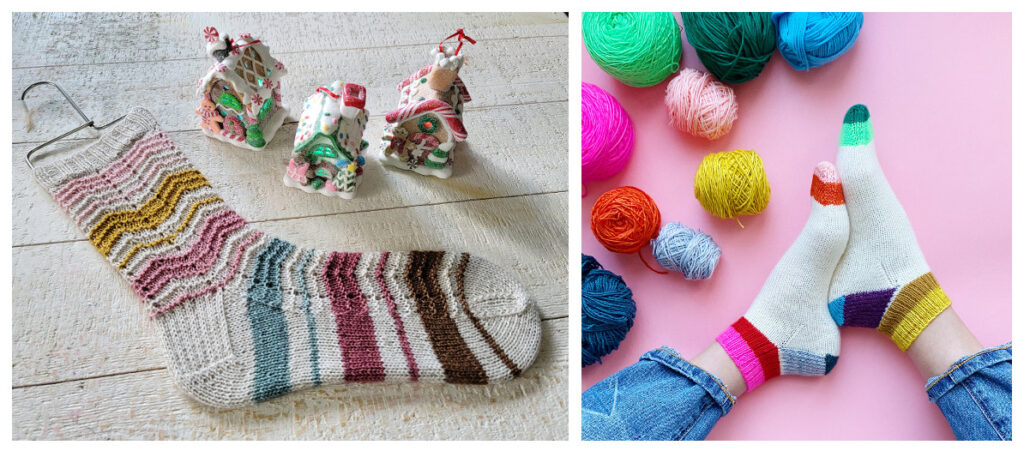 2. Socks
The Weekend Shorty Socks by Summer Lee is a free pattern that would knit up in no time. We love the simple play on colours, simple yet so striking. Another gorgeous option, the Desert Rose Socks by Crystal Tea Knits.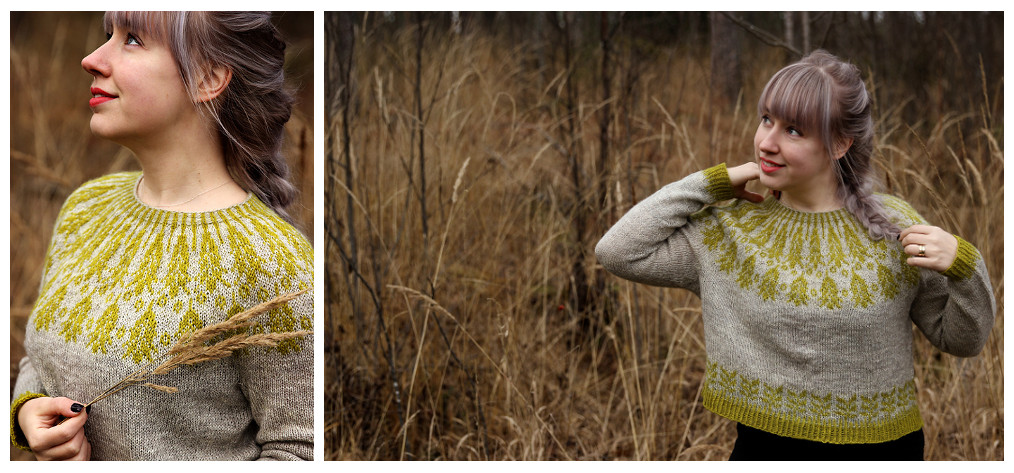 The Audrey Set is also great to knit something more substantial like a jumper. Grain by Anna Johanna could be adapted in a multitude of different ways to fit the three contrasting minis. The combination of a speckled body with a three-tone stranded motif would make the resulting jumper even more spectacular. Two to three sets would be enough to knit most of the sizes available.
4. Little Garland by Stephanie Lotven
The Audrey Sets being machine washable, it would be a fantastic option to make something for babies or children. This delightful kids jumper is available in sizes ranging from baby all the way to 12 yo. The garland motif gives it a lovely Christmas feel, very suited to the festive season.
5. Her Favourite Cowl by Rina Lehmann
Her Favourite Cowl combines simple stripes with a beautiful feather and fan stitch. The various striped sections give plenty of opportunity to play with colours. A simple accessory that will elevate any winter outfit!
Please note for some of these patterns you may have to alter the sections of each colour depending on the yarn you have available as not every contrast colour section is equal to the 85m mini skeins – but this just means you can get creative with your colourwork!
If you want more inspiration, you can read our pattern suggestion for the Audrey Sets 2021 Collection!