Beehive Yarns: Pattern Inspiration
This week we added some exciting new goodies to our store, in the form of these stunning limited edition yarn sets by Beehive Yarns. Each set comes with 100g (425m) of a main, variegated yarn alongside three complimentary mini skeins each of 25g (85m). All together that's 680m of hand dyed yarn goodness! ⁠These sets are created on Beehive Yarn's Audrey base – a classic sock combination of 75% super wash Merino and 25% Nylon. Need some inspiration on what to make with these sets? Then keep scrolling!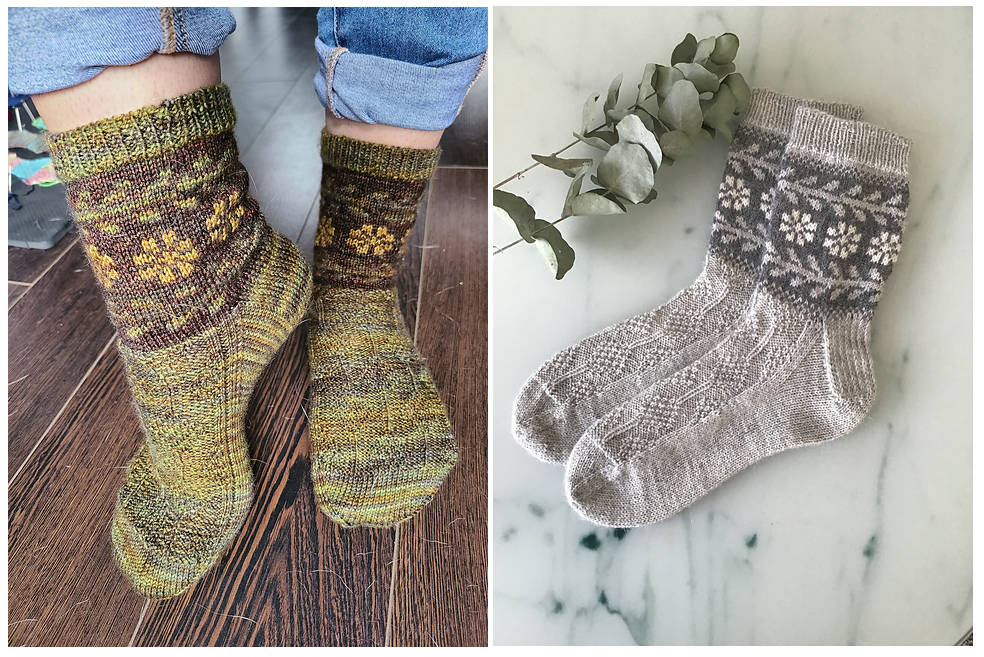 The deliciously soft combination of merino and nylon of course lends itself to socks, so we thought we'd start this round up with a few delightful sock patterns. The Floral Laurel Socks by Jaimie Bortolotti feature both a colourwork leg and a textured moss stitch foot pattern – a great way to show off both the variegated main skein along with the pops of colour in the minis.
For the lovers of bold, geometric prints, the Dots and Dashes Socks by Aimee Sher would be a great choice in pattern with it's bright colourwork cascading down the foot. Stick to the block tones like the original pattern, or interchange the mini skeins along the colourwork lines for an intensely striking sock,
Want to let the variegated main yarn take centre stage? Then look no further than the Vinyard Vine Socks by Crystal Tea Knits, a simple cable cuff down sock pattern that will really let the beauty of these hand dyed yarns pop!
The Burrastow Beanie by Gudrun Johnston is a great opportunity for some traditional Fairilse with a twist! This classic Scottish colourwork will be given a modern edge with the speckling throughout the main yarn, whilst the complimenting colours will blend together seamlessly for a unique winter accessory.
The Pluck Cowl by Stephanie Lotven is a superb combination of stockinette, colourwork, and lace, creating a truly stunning accessory that is bound to make you stand out! The delicate floral motifs pair perfectly with the romantic lace panels for a quick knit, hassle free cowl.
Want to make a bigger knit out of these sets? Syys by Anna Johanna is one of our top choices! A simple relaxed fit and an autumnal leaf motif hem, this jumper would look great with the complimentary mini skeins against a variegated background. Why not add some striping details in the sleeves with the leftovers of the mini skins to add an extra pop of colour?
Last but not least we have this glorious Brioche Adventure shawl by Jonatan Tollow, purposefully designed with mini skeins in mind! Mix and match your contrast colours with bigger blocks of the speckled main yarn, or add in some mini's from your stash. Even better, this pattern is made with only basic brioche stitches which means any newcomer to the technique can try it out!
Please note for some of these patterns you may have to alter the sections of each colour depending on the yarn you have available as not every contrast colour section is equal to the 85m mini skeins – but this just means you can get creative with your colourwork!
Until Next Time… Happy Knitting!