Birds of a Feather Collection: Exclusive Colours from Life in the Long Grass
A little secret has been up my sleeve for the past couple of months. When I first contacted Caroline from Life in the Long Grass about becoming a stockist of their gorgeous yarns she mentioned that they really enjoy creating custom colourways. They host yarn clubs so creating new unique colours regularly is right up their street so when she asked if I would like to come up with a theme I jumped at the chance! I didn't want to stray too much from their overarching idea of taking inspiration from nature so I thought I would look to the the most famous naturist there is, David Attenborough and the documentary he did – my personal favourite – on birds of paradise and the fabulous colours of birds.
Let me present the Birds of a Feather Collection. The birds I ended up picking are not true birds of paradise, but rather some of my favourite birds from around the world with some seriously distinctive and fabulous colours! When Caroline send me preview pictures of these skeins I was blown away by their resemblance and they are even better in real life. Every splash of colour is represented in the same quantity as on the bird itself. These are truly unique and for now, can only be found at YAK.
The Goldfinch is native to Europe, North Africa and Western Asia. They have had a long relationship with humans because of their distinctive colours and pleasant song and were popular cage birds during the 19th century.
This Blue Gouldian Finch, also from the finch family are native to Australia although are now widely bred in captivity. The Gouldian Finch comes in many different colours. They are colony birds and nest in tree holes.
The Green Parakeet is a medium sized parrot native to Central America. These birds feed on seeds, various fruits, and corn. It can sometimes be considered a crop pest.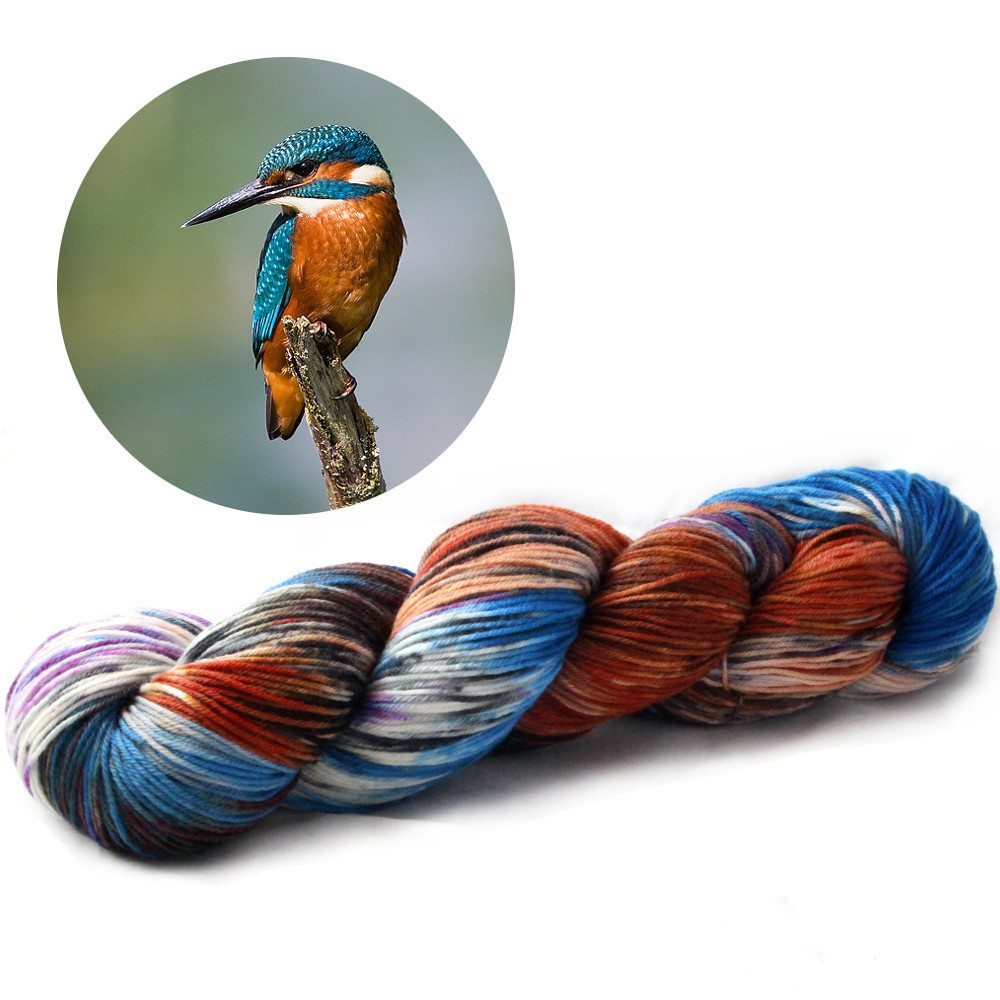 The Kingfisher has approximately 90 species. This colours above are those of the Common Kingfisher who are widely distributed throughout Europe, Asia and North Africa. They are highly territorial and are most commonly found close to fresh open water.
Last but not least the Lilac Breasted Roller is native to Sub-Saharan Africa and is the national bird of Kenya and Botswana. Eggs are incubated by both parents who become highly aggressive in the protection of their eggs.
All of the Birds of a Feather Collection colours are on the Fine Sock base, 75% merino 25% nylon and so is a highly versatile yarn, perfect for anything, from socks to frocks! Can you imagine being naturally this bright and colourful? Well now you can be! I have my eye on a few different patterns which I think would show off the yarn and colours perfectly.
Top left is Sunwalker by Melanie Berg, top right is YAKardi by Nadia Crétin-Léchenne. Bottom left Folded by Veera Välimäki, bottom right is Lateral by Cookie A. Simple shapes with lots of room for showing off the changes in colour will make the best of this yarn. Choose accessories for a bright accent or go the whole 9 yards and make a jumper if you're particularly colour brave. Please be aware these yarns are hand painted and therefore won't have a fixed colour repeat so for larger projects I would recommend alternating skeins to ensure random colour distribution.
And what a good excuse to change our window to show these beautiful skeins off.