On January the 20th we will be celebrating our 3rd birthday at YAK. Over the last 3 years  in our lovely bricks and mortar shop we have grown into our beautiful space nestled in Brighton's famous North Laine. Filling our walls with wool and notions, opening our doors for our weekly knit night and teaching lots of classes. We endeavour to provide your every woolly need from our shop in Brighton, and our online store.
It was four years ago Kate's ambition of opening a wool shop in Brighton started to come to life. The shop began online, stocking products from home and abroad. The first yarn ever sold was the The Uncommon Thread BFL fingering in Navel officer which was sent all the way to Canada. The Uncommon Thread is our lovely local Brighton hand dyer which makes the first sale even more special!
Our first time meeting the public was at Unwind Brighton, when the shop was still online only. Organised by local designer Dani Sunshine (who now teaches all our beginner classes) it felt like jumping in at the deep end. We are now starting to prepare for our next show, Edinburgh Yarn Festival in March, which we are super excited about, but more about that another day.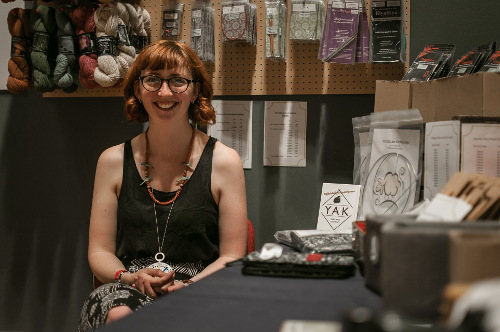 Thank you to our customers and thank you to everyone who allows us to represent them through our cosy shop in the North Laine and your on-going support.  Here's to more years and more knitting, crocheting and crafting!
As well as YAK's birthday it is our leading lady, Kate's 30th birthday this weekend. Happy Birthday Kate!
To celebrate all the birthdays this month (it is also shop champions, Wendy and Frankie's Birthdays too! Go Capricorns!) we are offering a fantastic discount for one week only on one of our favourite yarns. It comes in all sorts of colours, two weights, three types and involves many speckles. Can you guess what it is? Newsletter subscribers will be sent all the information first so make sure to sign up! Scroll to the bottom of this page to sign up now. 
The sale will be both online and in store!