I personally devour pattern books and magazines like fiction. I like to read them cover to cover and want them to be an investment. The best ones being those I will get something out of beyond just a couple of patterns I might one day knit. Books I will be able to keep and refer back to in year to come. We've had some fun new arrivals at YAK this week including several books which fit this category perfectly. Not only do they have beautiful patterns but inspiring anecdotes, histories and articles.
First up is Amirisu. A bilingual magazine from Japan which includes 7 beautiful designs from renowned international designers. This issue also has articles by Karen Templer on slow fashion and a Porland city guide. The patterns themselves are stunning, up to date but classic designs.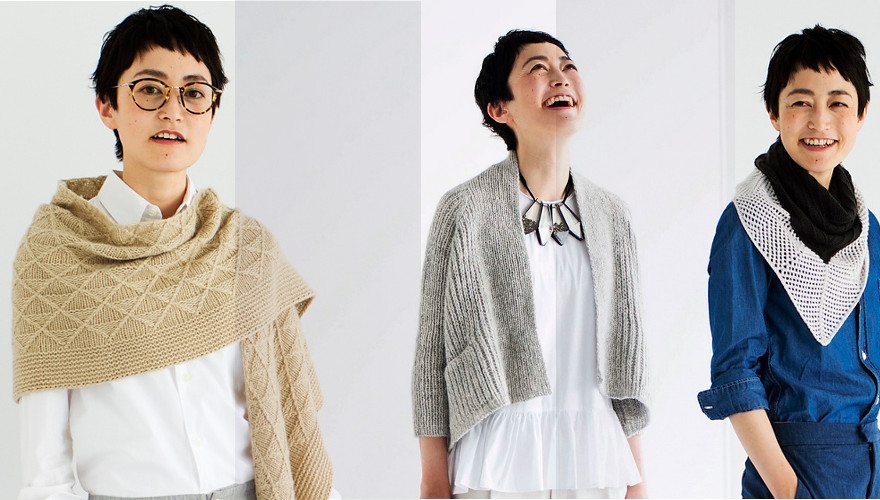 My three favourite, Void, Flaum and Fletching. The first two are worsted weight. Our new favourite worsted yarn at YAK is Gilliatt. If you read this blog you'll have heard me going on about it before, beautiful ethical French merino. We are running low at the moment but keep and eye out as we'll be getting new stock at the end of the month including lots of new colours. Flaum I think would also look fabulous in Soft Donegal, the tweedy flecks would really compliment the all over rib. For Fletching I would pick Shilasdair Luxury 4ply, soft and springy.
Felicity Ford's book KNITSONIK is a stranded colourwork sourcebook. It's a fascinating look into the process of designing colourwork and gets your creative juices flowing by asking you to look more closely at you everyday surroundings and explains how to decode them into colour palettes and charted designs.
KNITSONIK contains twelve case studies and two accessory patterns to give you a head start and some guidance. Felicity uses Jamieson & Smith 2ply Jumper Weight throughout the book. This yarn is just perfect for colourwork because of the huge range of colours and small 25g quantities.
Ysolda Teague is a name you're not likely to forget in and of itself but add in the fact that she has been designing fabulous patterns for the last 10 years  and Ysolda has become something of a household name in the knitting world. Ysolda's patterns are renowned for being inclusive, working well for people of all shapes and sizes. In The Rhinebeck Sweater Ysolda curates a whole book of sweater patterns which celebrate the New York Sheep and Wool festival.
Twelve designs by twelve different designers, each one starts with the story of what Rhinebeck means to them. The book includes recipes, interviews and lots of other interesting stories. The book details the different sheep breeds found in the yarns used in the book which are all local to Rhinebeck. Because they are harder to find here each patterns details what to consider when substituting yarn. This is much much more than just a pattern book.
And lastly Gudrun Johnston's Shetland Trader Book 2 gives us visions of Scotland. The softly lit pictures give a sense of a slow paced life, a quiet cup of tea and a bit of knitting before heading out for a walk. The patterns use several yarns but all with the common theme of single breed pure wools. Frequently Shetland unsurprisingly, Jamieson & Smith being the perfect choice.