Christmas Knitting: Qing Glitter Sock Yarn
We are delighted to announce that we have finally extended our range of hand-dyed yarn to its former glory. Our stocks were low for a while and needed to be replenished giving us the opportunity to introduce new brands and bases to the shop. Earlier this month it was the Walk Cottage Merino and the Black Elephant Sock. This week 3 Qing bases are landing on our shelves. One of them is the beautiful Qing Glitter Sock yarn.
Socks, gloves and hats are all great projects to knit for Christmas. They're quick to make and so useful during winter. Socks however present one major advantage in the fact that all sock yarns are machine washable. So safer to gift to someone who may not be well versed in the art of hand washing. Glitter socks are particularly suited to that time of year. Not only they look very festive but they also offer a simple way to add light and colour to any basic outfit.
Qing Glitter Sock is a classic 4ply sock yarn with added speckles of Stellina to bring extra sparkles to the thread. Perfect to knit your own pair of shiny-snazzy socks. To the glitz add the beautiful variegation of each colourway and you will end up with some pretty unique hand made present. Of course Qing Glitter isn't limited to socks and can be used to knit all sorts of accessories and garments. Alternatively one or few skeins would also make a great present to any knitters.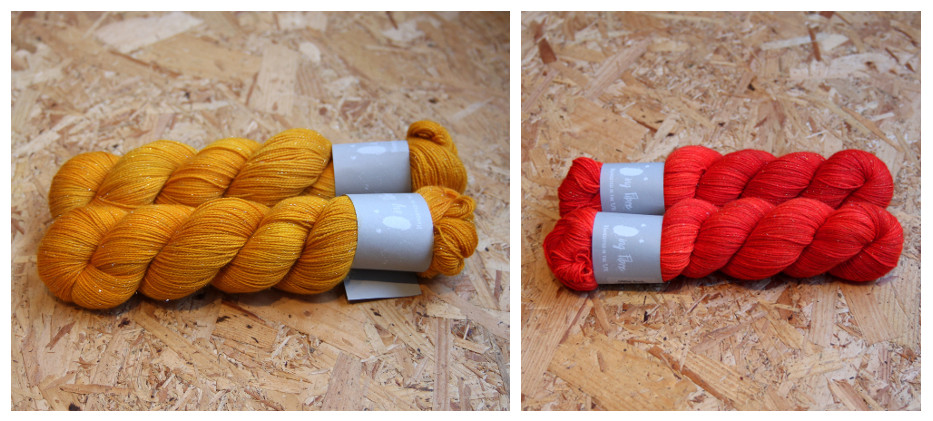 If you're intending to knit some of your Christmas presents you should consider casting them on now. Really the sooner the better as you do not want to be stuck at 3:00am on the 24th racing to finish your Christmas knits. This is especially true for small size projects that we tend to leave until the last minute thinking they won't take too long to make.
As we mentioned earlier we have received two other bases from Qing. These include their Merino DK and their Melted Baby Suri which we'll soon be discussing on the blog. In the meantime we hope this post has inspired you to cast on your own pair of sparkly socks for Christmas. If so please feel free to share them on our Ravelry group or Instagram using the hashtags #yakmakes.
Until Next Time… Happy Knitting!