Completed Project: Eugenie's Daniela Vest
Last month I was inspired to make myself a sleeveless knit top. Something I could wear next to my skin in the midst of summer or layered over a tee on colder days. I love the simple look of a monochrome brioche ⁠so the Daniela Vest by Lucia Ruiz de Aguirre instantly felt like the perfect pattern.
To give it a real summer feel, I swapped the recommended aran weight yarn for the Moya 100% Cotton DK in the colour Hydrangea. Surprisingly I did manage to get gauge using 4.00mm needles. This is because brioche fabric can be quite loose and stretchy – especially when knitted with fibres that aren't inherently springy such as cotton. A springy woollen yarn would have given the fabric more structure and bounce, and it turn made the gauge tighter.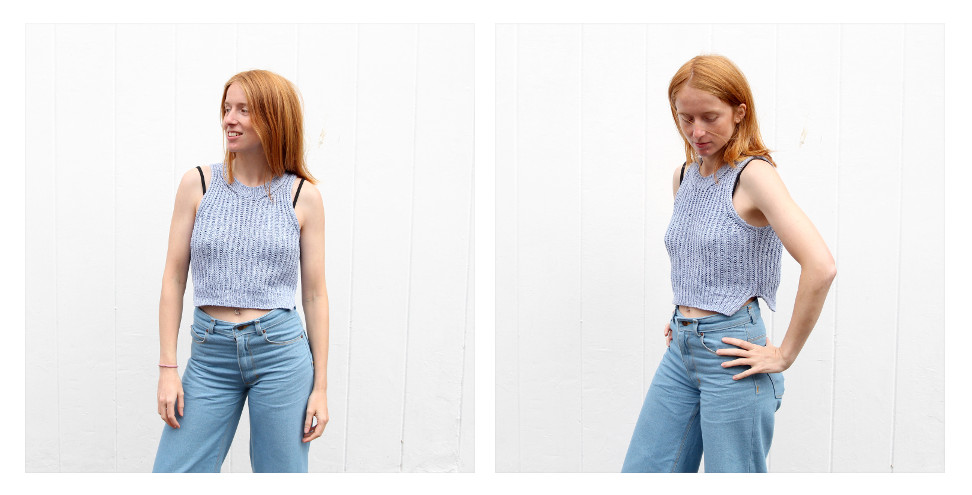 The Daniela Vest is designed to be worn quite loose so I graded the pattern one size down in order to achieve the fitted look of a tank top. It is 34″ around the bust, giving me a couple of inches of positive ease so still loose enough to slip it over a top. I have also added a split hem and used an invisible bind-off at the hem and around the neck for a more polished finish. I didn't dare playing yarn-chicken and bought the four balls recommended by the pattern but in the end I only needed two and an half. Which kind of make sense considering I graded the pattern one size down.

As someone with very little experience with brioche this pattern was both enjoyable and interesting to knit. The seamless top down construction is easy to follow and I love how the brioche increase creates simple patterns along the neckline and the armholes. Like most cotton yarn Moya has a great stitch definition which highlights beautifully the ribbed texture of the fabric.
I've had a lot of wear out of my Daniela Vest since I finished it three weeks ago. It went with me to the south of France and was the perfect companion to my Dawn jeans on balmy nights out. I found the split hem improves the drape and fit making it easier to layer it over a dress or a tee. Last night I even took it to a wedding to wear it over a dress with long flowy sleeves. The blue and purple variegations in the colour Hydrangea are subtle and work well with the breezy look of the top. It was such a quick knit I am seriously considering making a second version but this time sticking to the original oversized fit and to the yarn recommended by the pattern; Snefnug. So far I am thinking of the colour Koksgra but I am not 100% decided yet.
Until Next Time… Happy Knitting!