Here in Brighton the sun is shining and we are dreaming of casting on new patterns. A few years back the summer months were a quiet time for new patterns and yarns, but now it seems like it's an exciting time of year!
Our knit night group is enjoying a shawl along during June and July. Kate (YAK's owner) already finished hers, a beautiful and appropriately named Brighton Beach in Walk Collection Luxe Sock in the colour Beach Foam. This is a great project to knit out of one skein of really beautiful sock yarn. The Luxe sock is an Alpaca, Silk and Cashmere blend so it drapes really well which is great for a shawl.
A new shawl that has tickled our fancy is by Susanne Sommer – Elevate, which appears in the most recent issue of Laine magazine. This shawl features Susanne's distinctive two colour Brioche and garter stitch combination. Our knit night regular Martina is going to be making this in The Uncommon Thread's Posh Fingering, paired with a yarn from her stash which is similar to Jamieson & Smith's 2 ply Jumper Weight. The contrast in textures between these two yarns is going to be really wonderful.
Some great cardigan patterns have been coming out recently too. Local designer Dani Sunshine just published her new pattern Dark Magic, an adult version of the popular Fairy Dust cardi. This is a really classic, wearable design that's great for cool summer evenings and looks equally good with jeans or dresses. It's knit in a DK weight yarn – I think it would be great in our new Eden Cottage Milburn DK.
Knitting with cotton is traditional for summer, but some people can find it hard on the hands. We sell Moya cotton in DK and chunky weights, which is a very soft, bouncy cotton that's actually really pleasant to knit with. The new pattern Bernadette by Dawn Catanzaro is designed for cotton and the striped yoke is super summery. For those who prefer to knit with wool, though, it would work well in CoopKnits Socks Yeah! DK. Think of all the colour options for those stripes!
My final fantasy knit is the brand new pattern Dipped Arms by Katrin Schneider. It's designed for three colours of hand dyed sock yarn and we've got so many options at the moment. I think it would be especially great knitted in Olann – we have the Sock Lite and the MCN, both in very eye catching colours from this brilliant Irish dyer. I'd love one in Thistle, Afterlife and Nova!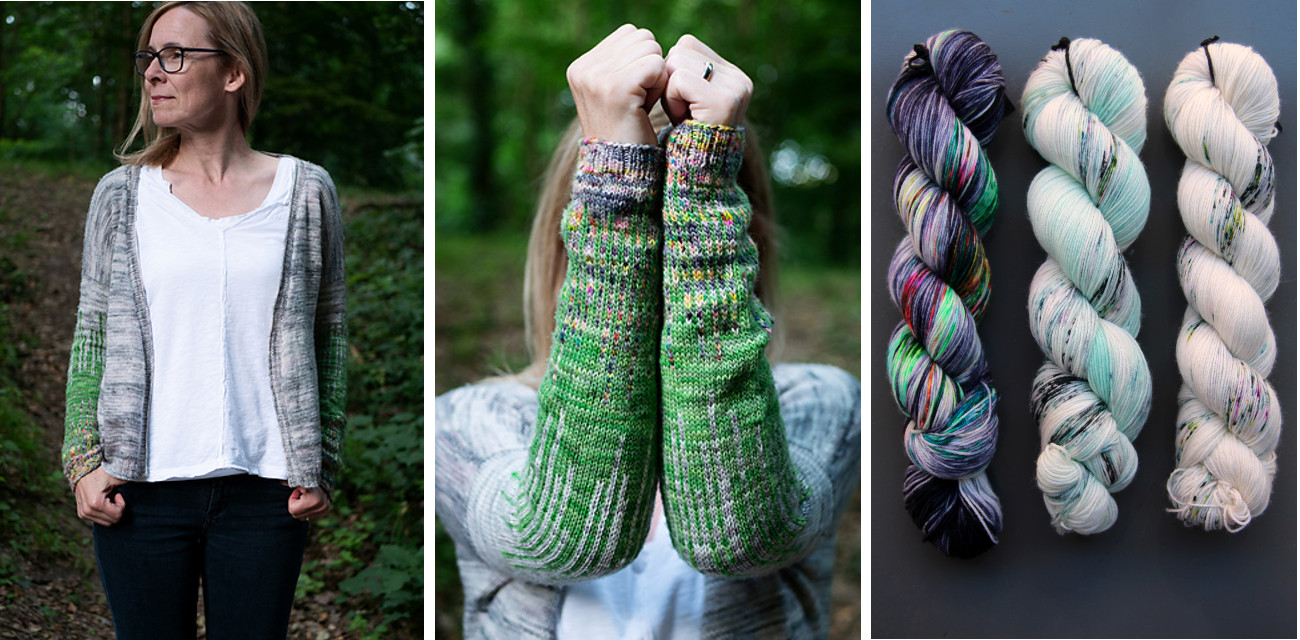 © Katrin Schneider