Shop Update | Dye For Yarn
I have spent most of today planning how I am going to lay out my stall at Unwind.  How many skeins of yarn can you fit in suitcase?  It's like the beginning of a bad joke.  There is unfortunately no punchline, although there may well be one at the festival if my calculations are wrong.  Let's hope not.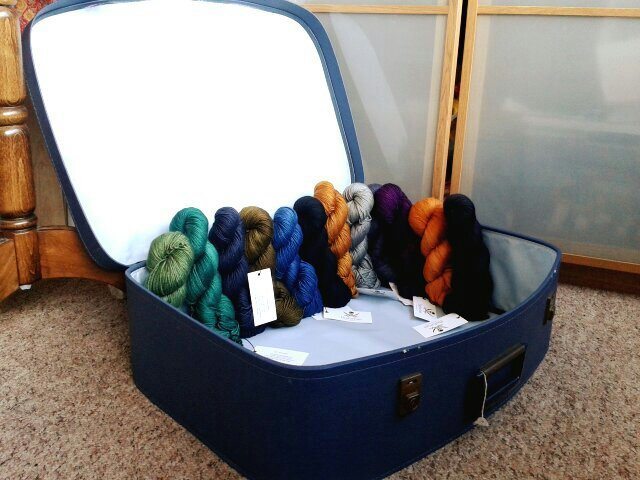 It is however, what is going in the suitcase that I want to talk about.  I am very excited give you a first insight into what will be on offer at the YAK stall in July.  First up is the lovely independent yarn company Dye For Yarn.  The masterminds behind the company are German duo Nicole and Cordula who gave up their science day jobs to concentrate on hand dying yarn full time and now have shop in Fürth near Nuremberg.    
YAK will be stocking three of their yarns but the first one I want to introduce is a fine lace weight made up of 70% merino, 20% silk, 10% cashmere – pictured above.  The lightness of this yarn is incredible, the silk and cashmere give it an amazing softness but without the sheen of silk showing through.  Knitted up the weight and delicacy of this yarn gives off a real heirloom feel but the saturation of colours bring it right back into the 21st century.  The shades and tones these two ladies manage to produce are truly unique.
Make a statement with one of these dynamic jewel tones.
Or keep it classic with one of these cooler colours.
So, what should I knit with it I hear you cry!  I have weddings on the brain with two coming up in the next couple of months, so I am being pulled towards all things summer wedding suitable.
I think these two patterns would be beautiful knitted with this yarn.  On the left, Rock Island by Jared Flood is one of the most popular shawl patterns on Ravelry, and you can see why.  Choose the right colour way and this would make any outfit look instantly glamours.  And better yet, it just requires one skein of the fine lace.  The tricky part will be choosing a colour.
Emily Wessel's design for Tin Can Knits is another gorgeous pattern which would be a great for someone who feels a bit intimidated by lace work.  The small insert in this simply constructed sleeveless top would be a great introduction to charted knitting.  Again this project requires just one skein of yarn.
You can take a look at the full range of colours we stock with their amazing names here.