Remarkable for its softness alpaca is one of those fibres that feels incredibly luxurious to knit and to wear. Over the last 10 years it has gained popularity amongst knitters and yarn producers as an equally soft but more sustainable alternative to cashmere.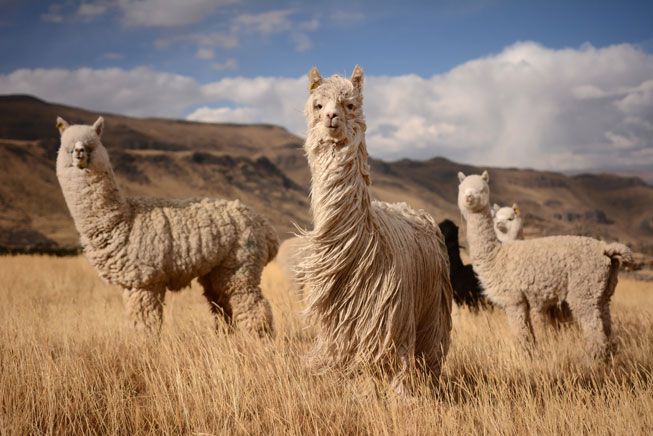 History:
Alpaca is part of the family of the Camelidae and it is most closely related to the llama, guanaco and vicuna also known collectively as llamoid. It originates from South America where it has been domesticated in the mountainous regions of the Andes for thousands of years. In the Inca Empire wearing Alpaca robes was a privilege of the elite.
First introduced to the UK in 1836 by Sir Titus Salt alpaca garments were very popular amongst fashionable Victorians. So much so that they sometimes figured on people's wills as prised items to be handed over to the next generation.
Fast forward to the 1990's Alpaca profile slowly rose in the US establishing itself as a safe and profitable investment for early retirees and backyard farmers. Alpaca breeding became a booming industry and many were quick to jump on the gravy train. Sadly farmers were not making money on the sale of the fleece but on the sale of the animals – turning alpaca breeding into a massive speculative bubble. The price of the fleece wasn't proportional to the price of alpacas which made the business model completely unsustainable. By the mid-2000's the 'Alpaca Bubble' exploded leaving many farmers bankrupted and unable to care for their alpacas.
Today alpacas can be commonly found across the UK thanks to the work of enthusiastic and responsible breeders. However most of the alpaca fibre used in the industry comes from Peru.
2. The Fleece:
Alpaca fleece is classified as hair and not wool. Like wool, hair fibres are made of keratin. Their outer sheath is composed of overlapping scales also known as cuticle cells. Alpaca cuticle cells do not protrude as much as those from wool which gives its fibre a smoother finish. In turn these smoother scales better reflect light providing alpaca with a natural lustre. This results in yarn and fabric that are much softer and silkier than their woollen counterparts. Due to the low diameter of its fibre alpaca is also very light but still retains a high insulation value. The cherry on top is that it doesn't contain lanolin and is therefore well tolerated by people with sensitive skin.

3. The alpaca:
Alpacas are divided in two breeds.: Huacaya and Suri which were both developed in the pre-Columbian times. Both breeds are slender-bodied, with a long neck and legs, a short tail, a small head and large pointed ears. Similar to llamas they are smaller in size and have a more rounded-body. They are approximately 90cm high at the shoulders and weigh 55 to 65 kg. Suri fleece is very fine and can grow long enough to touch the floor if kept un-sheared. Huacaya fleece is in comparison shorter and coarser. Huacayas make for 93% of the alpaca population. Alpacas come in 22 colours – great to create a wide palette of undyed colourways.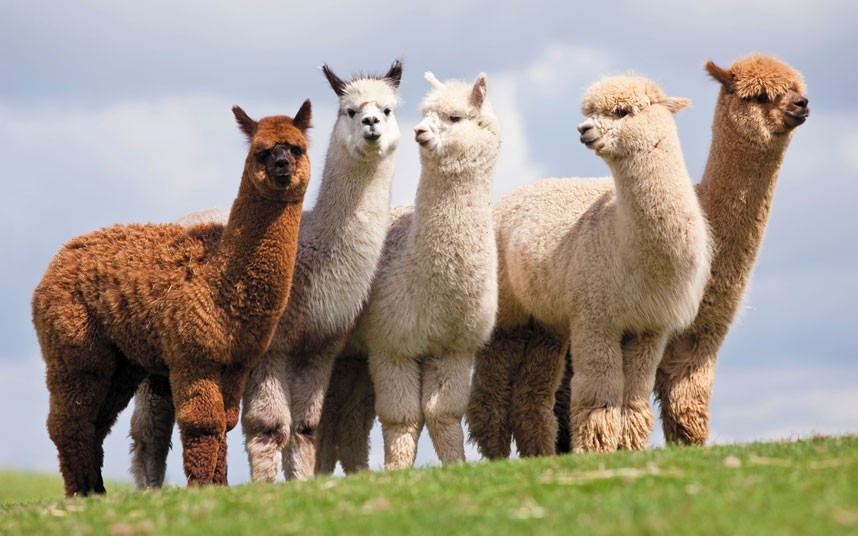 5. Sustainibility:
Peru is home to 75% of the Alpaca population where most of the flocks roam freely in the Andes mountains. They are very sturdy animals particularly adapted to the harsh conditions of their natural habitat. Weather cycles in the Andes are extremely variable and temperatures can fluctuate as much as 30 degrees in one day. Alpacas require very little resources to live on. Impoverished pastures with little water are enough for this hardy animal to thrive. They also have a low impact on their ecosystem thanks to two key attributes. Their cushioned hooves are soft on the soil on which they walk and they graze without pulling out the roots of the plants they eat allowing the flora to regenerate at a normal speed. By buying alpaca yarn you are not only promote a sustainable form of animal husbandry but you are also support Peruvian farming communities.

4. Yarn.
Sandnes Garn Alpakka is a classic 100% alpaca yarn. Super soft and super drapey. It is particularly suited to garments and accessories worn next to the skin. When knitting with Alpaca always remember that it doesn't benefit from the same elasticity than wool. Overtime this can lead the fabric to stretch. To remedy to that problem it is wise to use a tighter gauge to increase the strength and durability of the fabric.
Alpakka Ull – also by Sandnes Garn – is a 65% alpaca and 35% wool mix. A great compromise for those who wants to enjoy a soft yarn which still retains the bounce and structure of wool.
The gorgeous Melted Baby Suri by Qing Fibre combines baby Suri alpaca, merino and silk for a super soft and unusual boucle-like handle. It is also really light and airy and yet very warm – just like a cosy cotton cloud. Dyes applied to this base 'melt' like beautiful watercolours.

It can't be denied that there is a lot more to alpacas than meet the eyes. These adorable balls of fluff provide us with a high quality fibre with all the elegance and softness of cashmere but at a fraction of the environmental cost. We hope you will enjoy knitting with it as much as we do and please remember to share your makes with us on Instagram using the hashtag #yakmakes.
Until Next Time… Happy Knitting!