Pattern Round Up: April 2020
This month we're serving you a special crochet Round Up! Spring is the air and as the weather is getting warmer crochet tops and accessories feel just like the kind of things we want to wear and to make. As fervent knitters we can be guilty of overlooking crochet releases so we apologise if our round ups sometimes lack of crochet features. We hope you will enjoy this month's selection!
Raw Green Tee by Katerina is the quintessential crochet summer top: lacy with a loose fit it would make a great addition to any beach outfit. For such a project you really want to favour a light plant-based yarn like the MoYa DK or the Kelbourne Woollen Mojave. Both of these yarns are very breathable – a must for summer garments – and have a great stitch definition.
The Isolla Sweater was designed by Linda Skuja while self-isolating. It features a cropped body, straight sleeves and a wide ballet neckline. It is worked seamless from the top down making it easy to lengthen the body. Here Linda gives you the option to make it using two strands of 4ply or just one strand of DK. The CaMaRose Organic Summer Wool would add a little bit more warmth while still feeling light and breathable. Alternatively the MoYa DK would make it extra summery.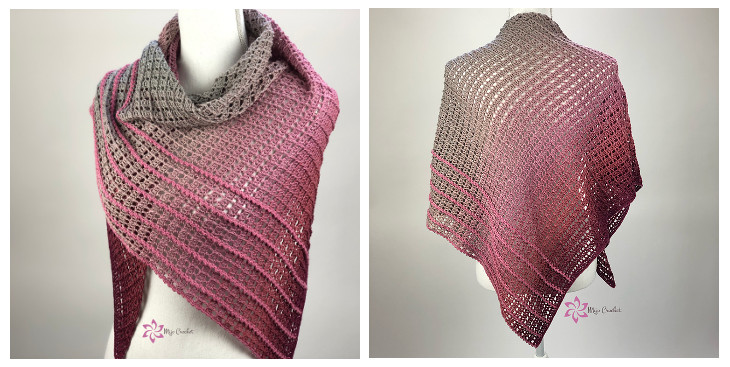 Hypatia by Johanna Lindahl is a triangular shawl crocheted in row from one side to the other. It was designed in Scheepjes Whirl in order to create this beautiful self-fading effect. The decorative trims are added last using a contrasting colour of 4ply.
Night Story by Heidi May is a crochet adaption of the classic yoked knitted jumper. It features a gorgeous two-tone motif around the shoulders, a round neck line, ribbed cuffs and ribbed hem. This would look particularly lovely in the Sandnes Garn – Alpakka.
In a similar vein we have the beautiful Kawoon by Elena Fedotova. Worked seamlessly from the top down it combines a lovely striped yoke and a linen stitch to add drape to the fabric. If you like the variegation of the original design we'd recommend using the Malabrigo Rios. Otherwise Gilliatt would give you plenty of options of colour combinations around the yoke.
Want to look at some more patterns? Browse all of our round ups.
Until Next Time… Happy Crochet!