Pattern Round Up: August 2020
Can you believe it's already September? If the return of Autumn knitting is usually a pleasant prospect, this year we wouldn't mind enjoying the warmth of an Indian summer for a little while longer. In this round up we'll celebrate these last opportunities for wearing shorts and t shirts through a collection of light lacy tops and shrugs, pretty shawls and blankets.
First is the lovely
Victoria
by
Justyna Lorkowska
. This oversized top features a wide boat-neck, cuffed sleeve and an amazing lace and bobble motif. It is worked in the round from the bottom-up. The yoke is then worked flat before being joined at the shoulders. The
Organic Summer Wool
will keep it super light and highlight the open lace beautifully.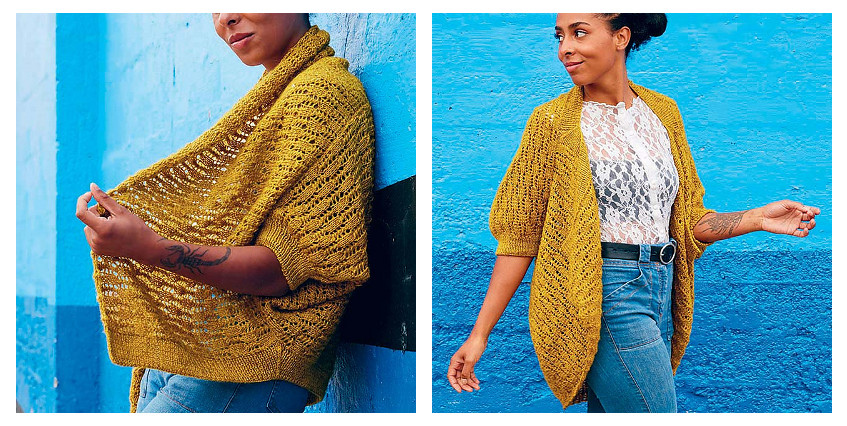 There's something about a lace cardigan that feels so perfect for that time of year. With its allover lace motif
Mood
by
Jeanette Sloan
looks very light and delicate. It is constructed of two rectangular panels sewn together under the sleeves. The neck band is picked up along the edge and worked flat in ribbing. Like Jeanette you could knit yours holding two strands of lace weight together or alternatively one strand of 4ply by itself. We're about to receive new colours of
LITLG Fine Sock
which would be perfect for it.
A bit of crochet now with
Little Golden Nook
's
Seedling Sweater
. The loose fit drop shoulders combo gives to this jumper a very cool and relaxed look. Its lace and bobble motif suffice to make it stands out but the addition of two other colours is definitely a nice touch. Here we'd be tempted to suggested
Gilliatt
for its amazing colour range and good stitch definition.
We'll finish with the
Linwood Place Blanket
by
Rachel Beth
. Each square is worked individually in the round and then joined together before working the border. The border is decorated with a special cluster stitch and a scalloped edge. This is a modular blanket so technically you could use pretty much any yarn and then adapt the size by adding or removing squares. If you'd rather stick to a sport weight then
Ulysse
would be your best option.
Love our Round-Ups? There's more here!
Until Next Time… Happy Knitting!