Pattern Round Up – July 2016
Needless to say that with all the patterns released every day on Ravelry, we're constantly spotting beautiful designs that we would love to cast on ASAP if only we were not already involved in several other projects.  However you, my dear reader, might be looking for something new to start, so we thought it was about time for a good old pattern round up – our monthly update on the latest designs published online. We picked up patterns suitable for all kind of yarn weights, so if you have some skeins waiting in your stash, crying out loud to be used, this could be the occasion to find them a purpose.
First things first, let's have a look to our lace pattern. I know at the moment if you live in the UK, it is a bit hard to believe we are at the heart summer.  However we need to stay confident, the weather will get better eventually!
Lacy shawls are always a must during those warmest months of the year. They are very feminine and a great way to elegantly complement any basic outfit.  We love the delicacy of the lace motifs and variegations of this shawl by Knitteratti Designs. Very similar effects could be achieved by using some of the gorgeous semi solid colours from the Walk – Delicate Merino Collection. Lace garments are also great because they usually require shorter yardage, ideal if you're running on a smaller budget. Here just one skeins of Delicate Merino would be plenty enough to complete this project.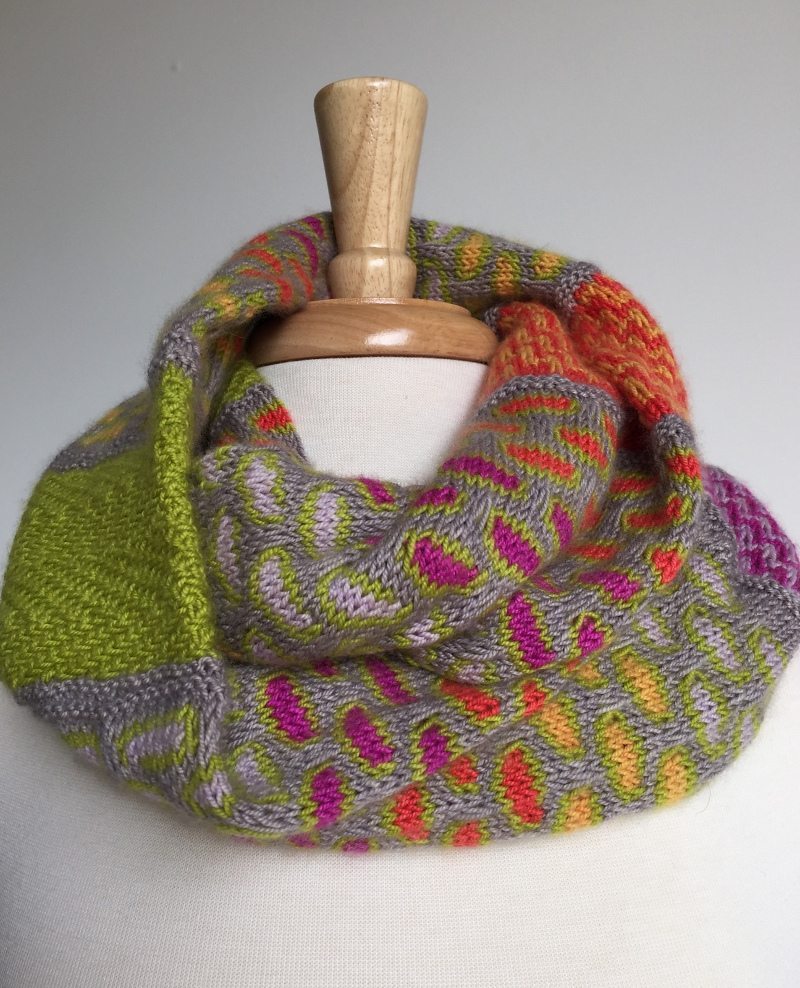 Second on our list is Birmingham by A.Opie Designs. With its combination of 6 different shades, this lovely cowl offers a great possibility to play with colours and create something truly personal and unique. Shilasdair's Luxury 4ply and its beautiful naturaly dyed colour palette, would be perfect for this design. Produced in the Isle of Skye, this yarn is made of a blend of merino, cashmere, angora and baby camel which makes it super soft and so ideal for any garments worn next to the skin.
Here some very cute socks by Verena Cohrs! The 4ply Signature by WYS would allow many interesting colours combinations.
A bit of children wear now with Summer Sunset by Helen Rose. This little vest top with its dainty lace ornaments is absolutely adorable, so why not pair it with some Life in the Long Grass 4ply or Malabrigo Sock and cast it on?
In Sport weight we selected the Black Locust Mitts by Jessica Yesin and this smart cape by Lang Yarns. Being based in Brighton, the Everyday Sport Yarn by the Uncommon Thread seems the perfect option to create a garment 100% home-made. Beside semi solid shades such as Peat would create subtle nuances that would work beautifully with both of those designs.
One of the great thing about summer is being able to enjoy a long day outdoor with a picnic and some good friends. No matter if you go by the beach or on the top of a hill, having a picnic blanket with you is always a plus. Fair Haven Picnic Blanket seduced us with its colourful, simple design and the fact that each square is knitted individually. This make it a great project for anyone travelling, moreover this also means you can easily adapt the size of the blanket by adding few extra squares.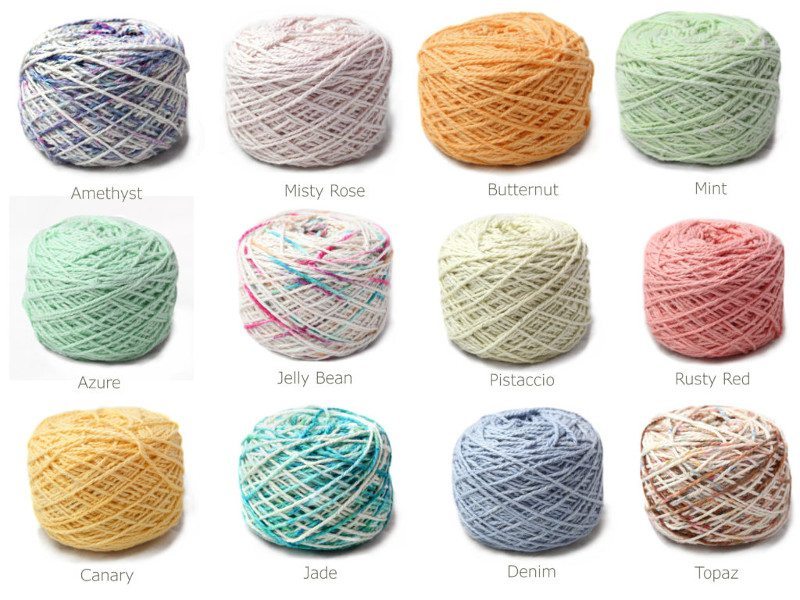 On the photos above are depicted some of the colours from the MoYa DK Cotton range. Pick the ones you like and create your own pic nic blanket.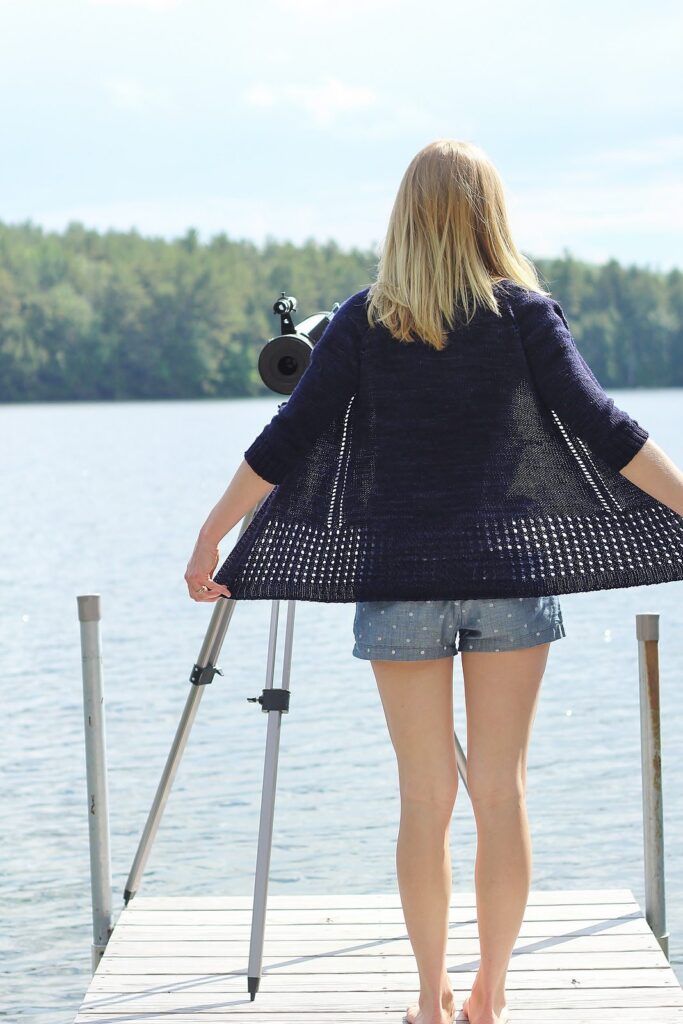 Staring at Stars by Alicia Plummer is a great summer cardigan because of its airy design created by the use of an eyelet pattern down the back and on the shoulders. Ideal if you're looking for some light weight garment to wear. With its beautiful colours palette and great softness, the Knit by Numbers Merino DK would be a great match with this project.
Here another beautiful Cardigan.  Where is my Poodle, is extremely feminine and has a great 1950s vintage vibe to it. Its intricate lace pattern should satisfy more experienced knitters.

To finish, Cupcake Tunic is a tunic-dress designed by Jenna Chaojareon for children aged between 12 and 24 months. To achieve similar colourful and variegated result, Malabrigo Rios would be the right yarn for the job. Being made of 100% Merino wool, this yarn has the exact kind of softness you would expect for children wear. Reflecting Pool, Water Green and Purpuras are some of our favourites colours.

We hope this article has inspired you for next projects and please do not hesitate to send us photo of your work if you finally decide to cast on one of those patterns. We always love to see what are our fellow knitters up to!
Until Next Time… Happy Knitting!