Pattern Round Up – July 2019
There are Round Ups that are tricky to put together. Ravelry gets so over saturated, good patterns gets lost in the daily flow of new releases. This one wasn't one of them. If anything we really had to make an effort to narrow them down to 'only' 8 picks.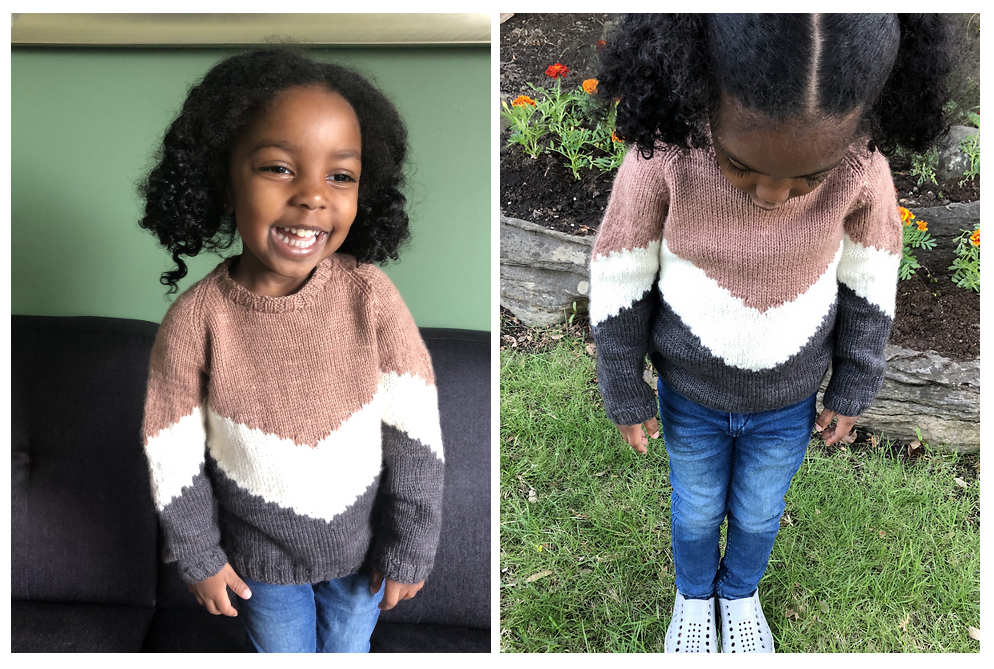 First up is this adorable children's jumper by Sasha Hyre. The big chevron stripe is so effective! Avery is worked seamlessly from the bottom up and asks for DK weight yarn. The chevron stripes are worked in intarsia. For an easy care use Yarn Stories – Merino DK or Coopknits – Sock Yeah! DK.
Rift by Jacqueline Cieslak is the perfect summer tee. It has a cropped and boxy shape – very flattering to a lot of body types. The patterns gives you two options for the neckline as well as the possibility of adding bust darts and adjusting the fit around the arms. To keep it as cool and lightweight as possible opt for Mojave.
Handmade Closet strikes again with the gorgeous Dancing Nancies jumper. Inspired from Ukrainian traditional costume this jumper features balloon sleeves as well as a floral motif around the yoke, hem and cuffs. The intricacy of the colour work is absolutely stunning. Malabrigo Sock or the Uncommon Thread – Posh Fingering would be perfect to create similar variegations.
Another tasty piece of yoked jumper with Alice in Bloom by Kim Firth. With its simple and fitted shape, the yoke is the main star of the show. The classic two tones version works equally well as the multicoloured one. For this one we'd be tempted to go with some Jamieson & Smith 2 Ply Jumper.
With The Daydreamer Andrea Mowry is giving us texture galore. Honeycomb, twist, bobble, you name it. The addition of mohair gives it a cool retro touch. It is worked seamlessly from the bottom up. If you like the fluffiness combine the Onion Silk + Kid Mohair and De Rerum Natura – Ulysse. Otherwise plain Ulysse would be just fine.
This fun tunic is Lesley Tee by Noma Ndlovu. You can totally imagine the peplum swirling around you as you move. For such project we would recommend using a strong yarn as the tunic would be likely to felt the more you sat on it. Something plant based would be ideal. If you don't mind playing around with gauge Mojave and its bright colour palette would work wonders.
Here a toe up pair of socks by Liz Corke. Togair comes with full written instructions as well as a chart. This variegated version is lovely but if you really want to show off the v motif go for a plain or semi-solid colour. To see our selection of sock yarn please click here.
Lights Rays by Jana Huck is all lightness and simplicity. Just a few rows of garter ridges and eyelets. Nothing more and nothing less. Pair it to some Uncommon Thread Posh Fingering to make it extra luxurious.
Finito! We could have kept going and going but as they say; all good things must come to an end.
Until Next Time…. Happy Knitting!