Pattern Round Up – June 2019
A special Round Up this month as we're featuring no less than 8 knitting patterns. Enjoy!
Lariat by Yamagara is a lovely 4ply top worked flat from the bottom up. It features a v-neck and a lace panel at the back. A twisted cable runs along the centre front and back as well as the neckline. The shorts sleeves are set-in. Lariat was originally designed with a blend of alapaca, silk and cashmere. The Uncommon Thread – Posh fingering would be perfect to get a similar soft handle. Kalinka would also be a good option to give a it a real summer feel.
The leopard motif of the Not Your Average Cat socks by Emma Kieran is amazing! In my opinion it would look even better with a few extra pattern repeats around the ankle and maybe a tad more ribbing . For this one we would suggest either the Onion – Nettle Sock Yarn or the Coopknits – Sock Yeah!
The Rose That Grew From Concrete is a gorgeous shawl by Mara Licole. We love her simple combination of texture and colour. To complete that summer look use the MoYa 100% DK.
Bubble V Crop by Jessie Mae Martinson is a cute v neck jumper inspired by ballet dance wear. The pattern asks for a DK weight yarn but with such a crop fit and open neckline it would also work nicely with something lighter and more summary like Kelbourne Woolens – Mojave.
More funky colourwork with the Tea Room pullover by Ailbíona McLochlainn. This one is worked seamlessly from the bottom up and features a lovely envelope neckline, some raglan shaping and 3/4 sleeves. Her combination of variegated and semi-solid yarn works very nicely here. Malabrigo – Sock would be great to emulate a similar look.
In the same spirit but with a top down construction, we have the Maria Sweater by Renee Callahan. The fading works really well with the 2 tones motifs. We particularly like the stripes in the inside of the sleeves. Both Rauwerk – Naturally Dyed or Ulysse would be great matches for this project.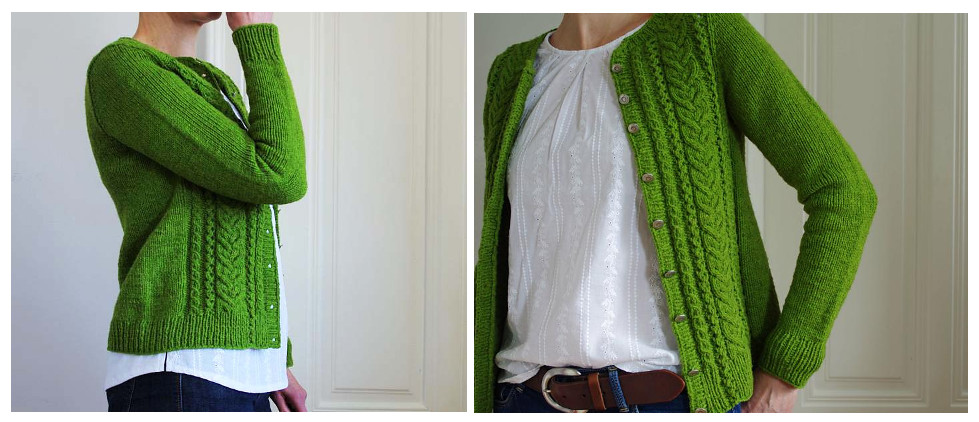 Next one on our list was designed in De Rerum Natura – Gilliatt. Sopherl by Monie Ebner is knitted seamlessly from the top down. We love its simple shape and the pretty cable panels down the front.
More 4ply to finish with the lovely Montana Moutain Cowl by Andrea Mowry. It is worked in the round, hiding the float in the inside of the cowl. For extra softness and beautiful colour combination we would recommend the Posh Fingering by the Uncommon Thread.
Until Next Time… Happy Knitting!