Pattern Round Up: May 2020
Although May was particularly glorious, thanks to the lockdown this hasn't stopped us knitting away day in, day out. In this month's round up you'll find a variety of light garments and accessories as well as one unseasonal -but very pretty – stranded jumper.
Yorlin by Kate Davies is cute 4ply cardigan knitted seamlessly from the top down. It features lace panels down the front, a crew neck and raglan sleeves. To keep it light and summery we'd suggest using the CaMaRose – Organic Summer Wool.
Next is The Right Stuff by Bristol Ivy. This triangular shawl plays on texture and colour by alternating stripes and popcorn stitch. The contrast is made even stronger by the combination of a light speckled colourway with a dark semi-solid. Pick your colours from the Cottage Merino and BFL Single to achieve similar effect.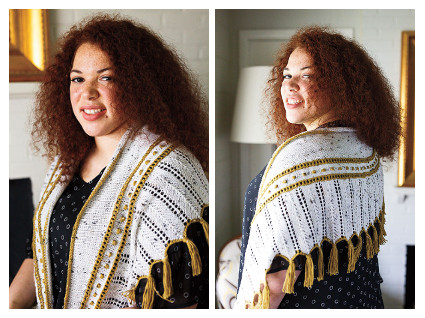 Another lovely summer shawl is Michelina by Jenny Williams. Again this design is all about texture and colours. Eyelet, chevrons, bobbles, tassels and stripes: here is a pattern that will keep you entertained all the way. For lots of softness and drape why not using the Uncommon Thread – Posh Fingering?
Landåsen is a striking stranded jumper designed by Skogstrikk Design. It is worked seamlessly from the bottom-up and features the most amazing tile-like stranded motif. The Sandnes Garn – Alpakka Ull would work a treat with that pattern.
We'll conclude with a pair of toe-up socks, the Sterling Socks by Cheryl Toy. Lacy socks are great for the mid-season and look very cute with a pair of sneakers. To highlight the lace motif we'd recommend using the Onion Nettle Sock.
Want to look at more patterns? Click here to browse all our Round Ups.
Until Next Time… Happy Knitting!