Pattern Round Up | November
Nipping it in just in time this is our monthly pattern round up, and this month has been a corker. Helped profusely by the fact that Brooklyn Tweed released their latest offering of patterns Wool People 8 and Kate Davies has published her long awaited book Yokes, plus Pom Pom Quarterly hit our doormats this month so there really was a lot to choose from.
First up is a pattern from Wool People 8, Skew by Kyoko Nakayoshi.
A cosy cardigan perfect for knitting by or sitting by a fireside. There were so many choices in this Wool People publication it was a hard choice but the graphic detail of this cardigan really pulled me in. It is bold but by choosing a different colour combination this could be a subtlety stripped cardigan evocative of a triangle shawl. I knew straight away I would have to pair this with YAK's newest recruit, The Uncommon Thread's Everyday Worsted. A beautiful 100% merino yarn, a perfect all rounder hand dyed with a depth of colour like no other.
Next up is a pattern by Allison Jane for the winter issue of Pom Pom Quarterly, lace hat Sorrel.
A lovely lace detail hat this look s quite simple but the eyelet holes give it a cute feminine charm. They almost look like little wishbones. Easy to wear and easy to knit this hat would definitely become a hat that would take you right through winter and into spring. Eden Cottage Yarns Oakworth DK is what I've chosen to pair with the pattern. The yarn is 100% Polwarth wool, much like a merino but with slightly more bite to it. The stitch definition of this yarn is great so your little wishbones will pop.
Something Christmasy next, the Lind Cowl by Helen Stewart.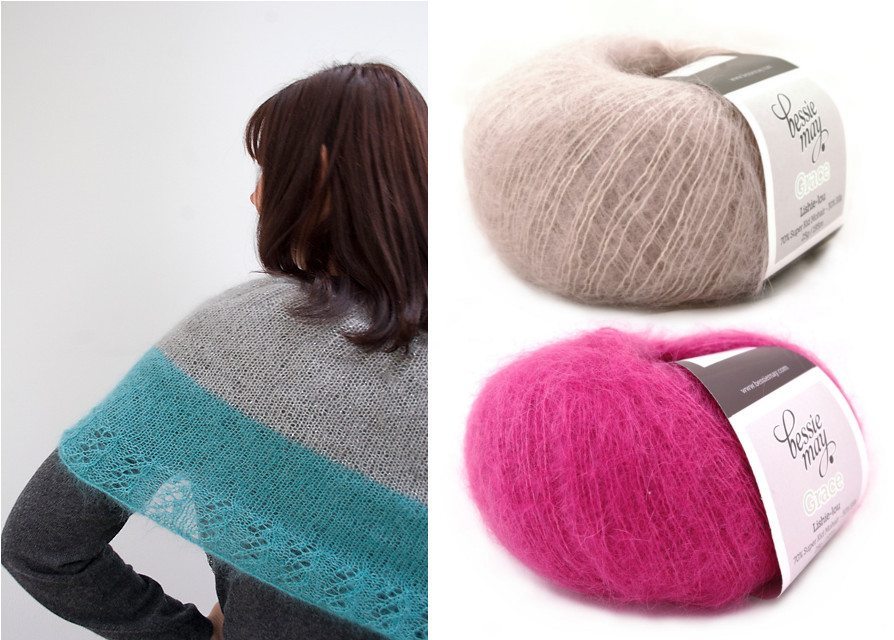 Helen Stewart designer, blogger, podcaster also known as Curious Handmade is hosting a Christmas Knitvent again this year. There will be 5 patterns released over 5 weeks to get you in the flow with your Christmas knitting. Out of the 3 that are already out I chose this pattern because it struck me as a great gift knit. This is a special cowl made with a delicate lace weight, perfect for a special night out around Christmas. Bessie May Grace would be a great yarn for this project. A beautiful blend of 70% kid mohair, 30% silk this yarn is soft as a cloud and decadent as Christmas should be.
And lastly I have chosen Epistrophy by Kate Davies.
I have been waiting eagerly for this book to come out and it certainly hasn't disapointed. I urge you to buy it so you can see all of the designs and read about the fascinating history and research Kate has done on each traditional yoke. I chose this one particularly because I just love the monochrome graphic, its repetitive nature whose inspiration was taken from Thelonius Monk's song Epistrophy. I have paired it with Dye for Yarn merino silk which would really add a bit of luxury to this cardigan.
Each month I think, how can so many new patterns be coming out all the time, but they just keep coming. Let's see what December will have to offer.