Summer Holiday Project – Wendy's Montbretia
Today in the second episode of our summer holidays trilogy, Wendy introduces us to her latest knitting project!
As a big fan of Ravelry I don't tend to buy many knitting books. However, a quick flick through the new Kate Davies The Book of Haps had me standing at the till purse in hand! Along with all the gorgeous designs the book has been a really good read, full of interesting essays and stories, discussing the history of the hap and the question of how haps differ from shawls. I learnt so much.

I dithered for a while on which of the designs I wanted to tackle first, but with a little road trip to Bath and Hay-on-Wye on the horizon I finally settled on the Montbretia by Carol Feller as a great road trip project. The shape of this hap and the lovely textured bobbles are perfect for me – although there are a few other designs in the book that I plan on making as well!
This was one project I decided to knit from stash, because it has to get used up somehow, right? I first swatched using the same colours as Carol used, shown on the cover of the book. While they looked pretty I knew it would not be quite 'me' – so I swatched again using replacing the green with grey (no surprise to those of you who know me!) and I knew I was on to a winner.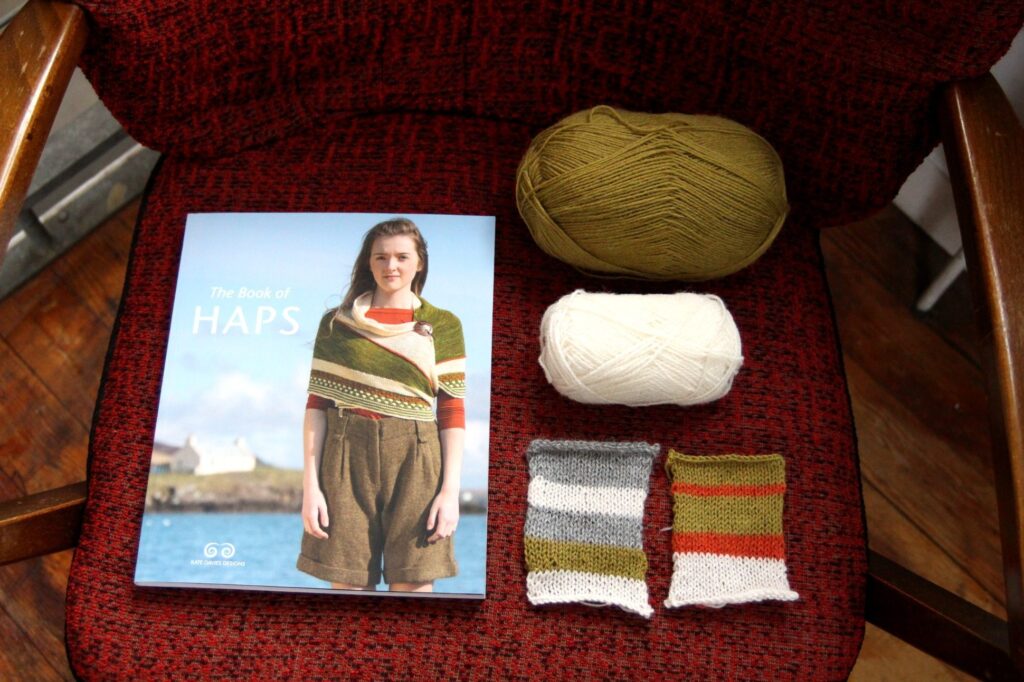 The cream and green yarns in the final swatch are sock yarns, left over from previous projects and the grey is a lovely soft alpaca that I've had for a while. I'll be casting on in the next few days and will share my progress on that road trip.
Until Next Time… Happy Knitting!