Summer is coming! To celebrate the return of the warm and sunny weather, today we are going to look at yarns and patterns that will hopefully inspire you to create lovely spring and summer projects. We've just uploaded some fab new yarns we can't wait to show you.
Our most recent addition is a DK cotton yarn produced by the South African brand MoYa. Made of 100% cotton, MoYa yarns are hand-dyed and come in various shades ranging from soft pastel tones to vivid variegated colours. If you are looking for a super soft, easy to work cotton for delicate knitting and crochet projects, MoYa DK cotton is what you need.
Now let's talk about patterns. Pom Pom Quaterly's issue 17 has just been released, proposing a great selection of summer knitwear. The vest on the above photo is one of our favourites. Its seemingly simple cut is enriched by subtle and elegant decorative details such as lace and small cables patterns. This would be perfect for the warmest days of summer and suit nicely the colours palette offered by MoYa.
And if you fancy using MoYa's powdery hues for children and babies wear it will be guaranteed to be adorable. We love this cardigan pattern by Erika Flory.
Another cotton yarn that was recently added to our shelves is the Shiny Happy Cotton by Wool and the Gang. Made in Peru, this Worsted – Aran cotton is soft, thick and presents a diverse colours.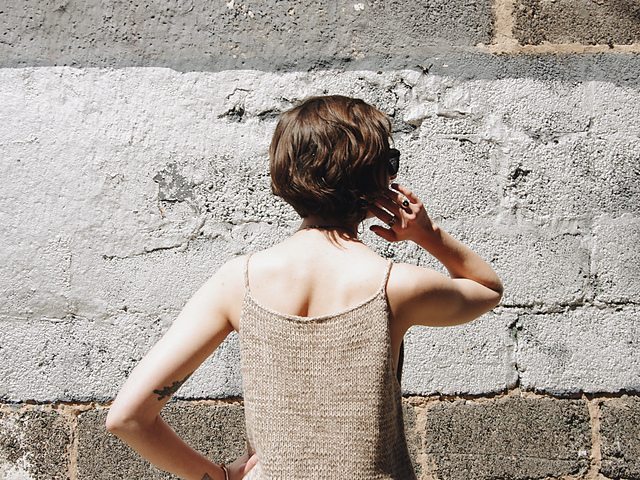 Of course, we can't really talk about summer yarns without mentioning some sort of funky beachwear pattern – especially as we're writing this in Brighton where the pebble beach is never far from our minds at this time of year. Designed by Jess Schreibstein this sleeveless tank top would be an ideal project for beginners wanting to complete their summer wardrobe. With its simple design, Beach Tank would be a great match with the neutral shades as much as the brightest colours of the Shiny Happy Cotton collection. The yarn is held double for this pattern so perfect for experimenting with a marled effect. Make sure to check out the projects for some colour inspiration.
For those looking for more intricate pattern, this dainty pullover by Gemma Atkinson features a lace yoke and combines different knitting techniques that will suit experienced knitters.
If you are wanting to work with something even more lightweight and cool to wear yarn, Karin Öberg's Kalinka linen collection could be right up your street (is what you are looking for). This luxurious 4ply yarn is made in Sweden with 100% linen and would be perfect for any kind of summer project. This yarn can be soaked before working with to soften it up.
A couple of suggestions at the top of our list are Linum Tee by Bristol Ivy and Blanche by Veronika Jobe