Two Completed Projects With One Skein – Charlee's Summer Secret Crop & Rivers Mitts.
I recently completed a degree in Knitwear Design and whilst I have knitted several full garments, they have only ever been made on a knitting machine, and one of my goals for 2020 was to hand knit myself something other than a scarf! I decided to start with a pair of mittens, so relatively early in the year I picked up a skein of LITLG Fine Sock yarn in the colour Dark Truffle, as the gorgeous purple tones match my favourite scarf perfectly! The yarn is also incredibly soft and bouncy, which is a great choice for anyone with sensitive skin like myself. I chose the River Mitts pattern by Katie Rempe, which is a great beginner pattern knitted from the bottom up. It splits into two sections to make fingerless mitts without the fuss of a thumb gusset, perfect for my first non scarf hand knit.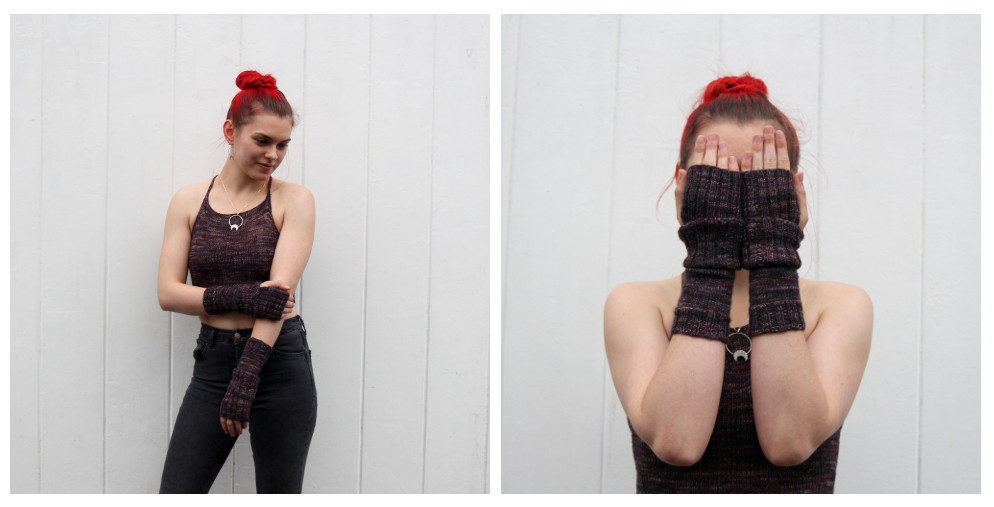 Then Covid hit, my degree took over and I forgot about this project until around August when I decided to have a sort through my yarn stash and I found this skein and pattern in one of my boxes! I made myself a cup of tea, left my stash alone and got stuck in immediately!
These mittens knitted up like a dream, and were so much easier than I thought they would be. The only tricky part was separating the stitches for the double cuff separation, as this was quite fiddly and took me a few tries to get right. However, Katie does link to a video tutorial in the pattern which was a great help!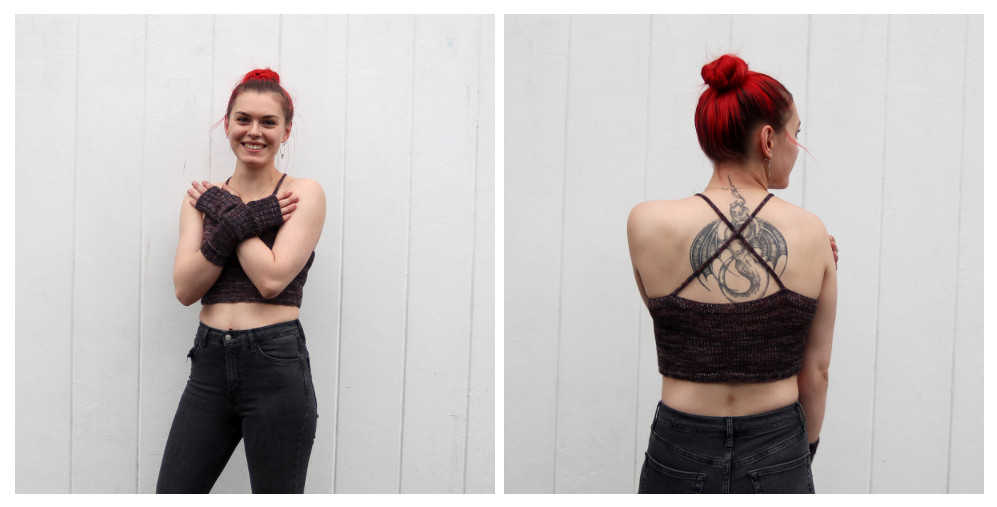 I'm absolutely in love with the end results, the mittens are amazingly warm even without fingers, and it means I don't have to mess around taking gloves off if I want to use my phone! I knitted a pair for my mum's birthday in November, using the colour Baroque, and she has let me know that they're also great for crafting in the cold! After breaking her wrist a few years ago, she's suffered with arthritis which means it's hard for her to knit and sew like she used to, especially in the winter months. Unknowingly to me, she had been searching for a pair of fingerless mittens to keep her warm and allow her to keep crafting, and she's absolutely in love with these!
Each pair of mittens, in the smaller size, uses approximately 200yds of yarn, which meant I had quite a lot left over! I wanted to see if I could find a pattern to use up the rest of these beautiful yarns without having to buy any more and then I came across the Summer Secret Crop pattern by Jessie Maed.
After successfully finishing the mittens I was ready to challenge myself with a garment, and this crop top seemed like the perfect step up! Knitted in the round, from the bottom up it is a great follow on for anyone wanting to take the next step in their knitting! I found the pattern very easy to follow, and found many links on YouTube to guide me through the few decreasing and increasing stitches that I hadn't used before.
The pattern gives you the choice to knit up with or without bust increases, as well as three different strap options: cross back, halter, and shoulder ties. I chose with bust increases as I wanted the top to be fitted, and decided on the cross back straps. I'm extremely happy with the results, the top fits perfectly, the yarn is so soft with beautiful variegated detailing and I can't wait for summer to come back around so I can show it off properly! At the time of writing, this pattern is available as a free ravelry download due to Covid, and Jessie Maed has many other beautiful designs to choose from if this top isn't quite right for you.
One skein of LITLG Fine Sock has 465 yards of yarn. With one skein I knitted 1 pair of female River Mitts, and one Summer Secret Crop top in a size small, with yarn left over. I'm planning on creating a multicoloured top with all the odds of yarn once I've finished a few pairs of Christmas present River Mitts! Both projects were extremely fast to knit up, taking a couple of days maximum once I had gotten the hang of the patterns. I'm in love with both designs, and they will definitely be making their way into a lot of stockings this year!
These projects have left me feeling a lot more confident with my hand knitting, I may even be casting on a jumper before the year is up!
Until Next Time… Happy Knitting!