Brighton's only independent yarn shop
First and foremost, YAK is run by people who are obsessed with the knitting world. We love nothing more than to geek out about fibres and different knitting techniques.
We are as excited about your next project as you are. Facilitators, enablers, whatever you want to call us, we are here to help you join the dots and find the perfect yarn and tools for your next project.
We specialise in high quality natural fibre yarns and we believe that natural fibres are the most sustainable choice. We value your time and the effort you will be putting into your craft and so we want to provide the best quality materials.
We want you to feel good about the materials you are using. This is why we make sure to pass on all of the information which is available to us about the products we stock. No type of fibre production is perfect so we will never green wash our products. We want you to be able to make an informed decision about the materials you are using based on the factors that are most important to you.
We are a very small but highly knowledgeable team. We are ready to welcome you in store and online. Your success is our success so we will always ready to help and if we can't we will try our best to point you at further resources. We are available for advice during shop hours via phone and email.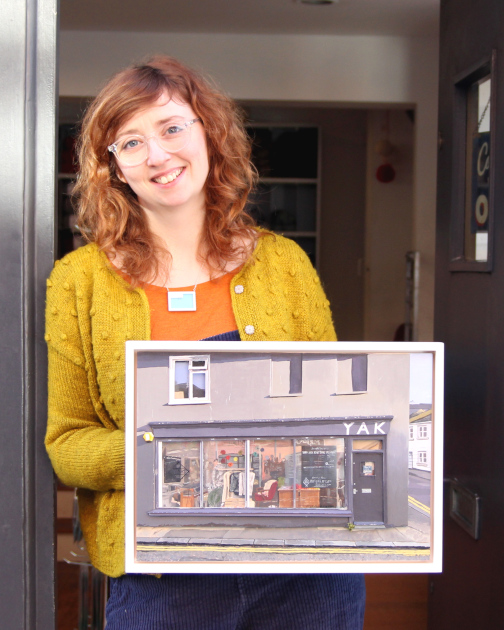 Kate
Kate moved to Brighton over 10 years ago and started YAK in 2014. A few years ago she would have said that outside of YAK she likes to sew, knit and go to comedy shows. Nowadays you will mostly find her at the park or helping her son create elaborate train sets.
Eugenie
Eugenie is a fashion history nut and knitting pattern designer. She has worked at YAK since 2016. When not in the shop you will find Eugenie either diving into a bowl at the skate park, sewing or designing her next project.
Megan
Megan joined the YAK team in the summer of 2022. Alongside working at YAK part-time Megan runs her own business selling her handknit designs. Megan is never not knitting! Fun fact, Megan takes all of her Instagram photos with a film camera!
Kate with Nicole & Cordula from Dye For Yarn at Unwind Festival in July 2014
YAK started out as a one woman show. Kate saw a gap in Brighton's creative scene and decided to put her love of yarn to the test and open a yarn shop. 
It would be another 8 months until Brighton got its local yarn shop but in the meantime YAK opened online and had a stall at Unwind Festival. 
Kate's friend Sarah was kind enough to let her store her stock in her attic room while the hunt for premises continued. Kate packed orders on the floor and loved sending packages all over the world.  
Grand opening party January 2015
16 Gloucester Road became YAK's bricks and mortar home in early 2015. Located in the heart of Brighton's historic North Laine, we created a welcoming and cosy atmosphere. 
We started working with some great tutors who have taught hundreds of people to knit and crochet in the shop. At Knit Night (Thursdays 6pm – 8pm) beautiful friendships have been forged and crafters have been inspired by each others' creativity.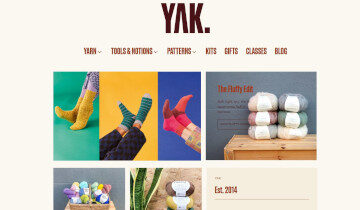 We launched a brand new website! We really hope this will make it easier to shop online with us. We have incorporated a lot of great feedback we've had from customers and we really hope you enjoy browsing. 
Even if there is no real substitute for squishing yarn in person but we have done our best to give you the best online shopping experience we can!