Weight:
sport
Fibre:
100% merino wool
non-superwash
Ball:
Needle size:
3.00 mm – 3.50 mm (US 3 – 4)
Gauge:
24 stitches x 38 rows = 10 cm x 10 cm (4 in x 4 in)
Spin:
woollen spun
Fibre Origin:
Provence, France
(merino d'Arles)
Valley of Alentejo, Portugal
(black merino)
Processed:
milled & dyed in Rougnat, France
Care:
hand wash
Gilliatt's little sister Ulysse is made from the same blend of French and Portuguese merino wool but this time in a sport weight. We think sport weight yarns work really well for baby and kids' items as well as transeasonal adult garments as it's not too thick, not too thin.
Ulysse is a non-superwash woollen spun yarn meaning it is lofty, airy and warm. Woollen spun yarns are particularly suited to stranded knitting but also work well with textured projects. It's soft to start with and becomes even softer after washing. Like Gilliatt, Ulysse is one of the most versatile yarns and will keep you coming back for more.
De Rerum Natura champions sustainability and transparency. This is reflected through every aspect of their business practices. 
Based in France they specialise in European merino yarn. 50% of the merino wool comes from certified organic flocks raised by transhumance in the French Alps.
 Transhumance is a type of pastoralism  in which flocks are moved from one grazing ground to another flowing a seasonal cycle. It is still commonly practiced in the mountainous regions of France. The rest of their fleece is sources from small traditional farms chosen for their respect for animal welfare.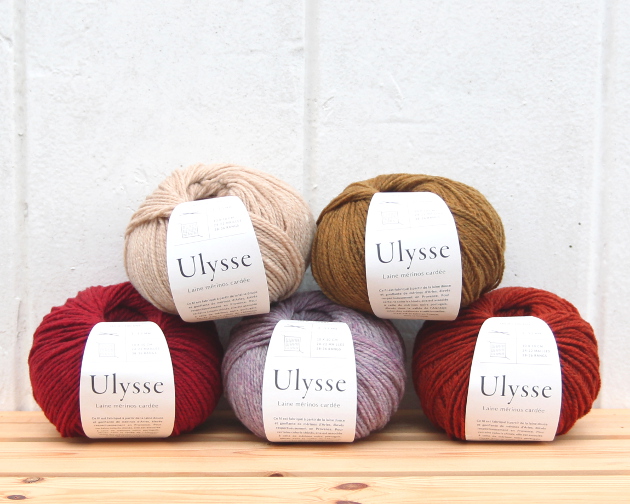 Looking for something heavier? Gilliatt is Ulysse's bigger sister. Same great fibre, same great spin but in a worsted weight.