Pattern Round Up – November 2019
Autumn and especially November is always a highlight for pattern releases. Not only is it the season for getting all you knitwear out to wear with pride but also the evenings are drawing in and the pull towards your needles is strong. Add to that the impending holiday season and you've got yourself the perfect environment for some exciting designing. Some how this round up has ended up being very colourwork heavy. I'm sure you'll forgive me when you see the beautiful patterns.
First up is Herr Neilsen by PixenDk. This classic yoked jumper is knitted from the bottom up meaning you can get all the plain stocking stitch out of the way before ending with the beautiful colourwork. Knit this up in in the Studio Donegal Soft Donegal to replicate the tweedy look of the sample.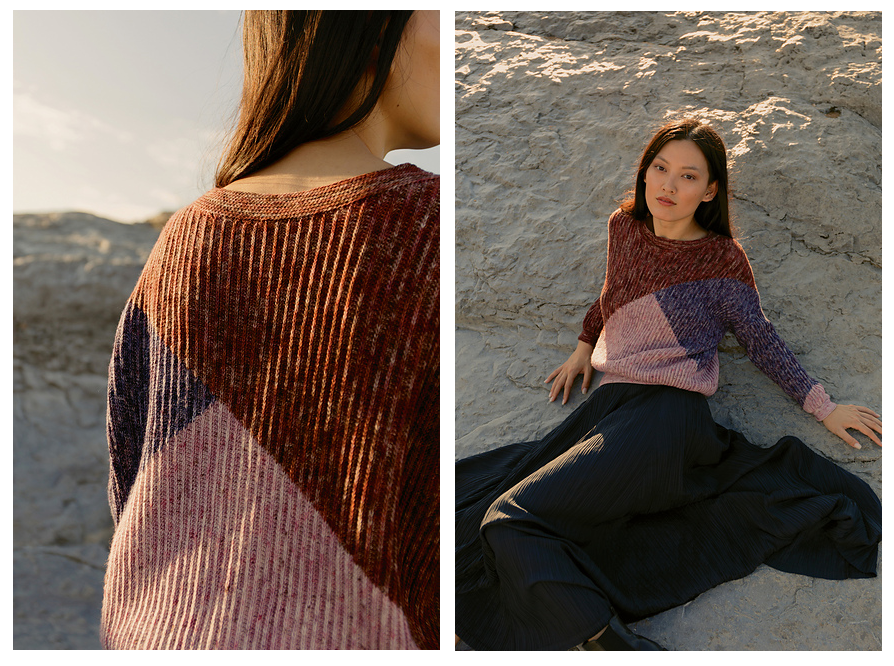 Acre by Judith Brand is our favourite design from the winter issue of Pom Pom. It might look like a knitted intarsia jumper but it is in fact crochet. The jumper is crochet flat in pieces and joined together at the shoulders and side seams finished with the cuffs and neckband being crochet in seamlessly in spirals. It is made using Life in the Long Grass but we have been dreaming of making one up in Black Elephant.
This gorgeous shawl, Sonya, is by Renee Callahan. A shawl to get your teeth sung into the sprawling lace feathers out from a central lace panel in the most beautiful way. The hot trend of knitting a strand of 4 ply with a strand of mohair lace is still raging and we love it. We think Sonya would look gorgeous knitted in the Life in the Long Grass Hinterland with a strand of the Onion Silk & Kid Mohair.
Shik'is Hat by Jennifer Berg has a motif inspired by Acoma pottery which is known for it strong use of black with subtle pops of colour. Shik'is means my friend so this hat is crying out to be made for a friend or loved one. The Kelbourne Woolens Germantown would be perfect for this colourwork and has a lovely range of colours including the all important black.
Our final selection and last item of colourwork is Bowline by Veera Valimaki. This top down jumper has all over colourwork meaning there is no chance of getting bored while the repeats are still easy to remember. The Rauwerk Sport would be a gorgeous choice for Bowline. The natural dyes would really make this a really special piece.
Until Next Time… Happy Knitting!