It's unavoidable. After weeks or months of wearing your woollens bobbles will eventually appear. Semi-regular washing can slow down the process but it won't stop it altogether. There are many factors that will lead to one yarn pilling faster than another but generally speaking the softer the fibre the more prone it will be. Hardier wools like Shetland, Jacob and Romney are naturally more resistant to abrasion and will take longer to show signs of wear.
I used to be very annoyed every time a jumper started pilling. Once, many years ago, I even tried to cut all the bobbles from a jumper with scissors which took forever and didn't look anywhere near as good as I was hoping. Little did I know that some handy tools would change my knitwear care routine for the better. There's actually quite a few shaving tools you can use to remove pilling: electric shavers, combs, brushes – all doing a pretty good job but none being versatile enough.
Electric shavers work fine with non-fluffy fibres but can sometime catch the fabric in their blade living a hole behind. Depending on their coarseness, combs will only work on specific fabrics. A coarse comb for example should never be used on a light or a delicate yarn. Soft brushes will do well with fluffy fibres but won't do much on smooth yarns.
The Gleener works a little bit differently. Combining the efficacy of the comb with the gentle sweep of the brush it can be used with almost any kind of fibre or fabric. It comes with three different shaving attachments – each suitable for knitwear ranging from delicate to heavy. And the lint brush is designed to remove fluff and hair from jackets and coats. If you're unsure which attachment to use first start with the finest one and work you way up until you're satisfied with the result.
Fibres with a brushed finish like mohair should not be shaved in the same way as smooth yarns. In this instance it would be a very bad idea to use an electric shaver as it would most definitely rip the fluff out and potentially damage the fabric. The trick is to brush out the bobble rather than pulling it off. Bobbles on a mohair jumper are caused by the fluffy halo of fibres matting together slightly. If you imagine that your own hair became matted you wouldn't cut the matted area off, you would brush it out. It is the same idea with the mohair halo. We found that gently sweeping the Gleener lint brush over the fabric worked really well in untangling the pills while making the fabric nice and fluffy. On the before/after photo above you can see that on the left the mohair fibres have matted together while on the right the fluff is full and even.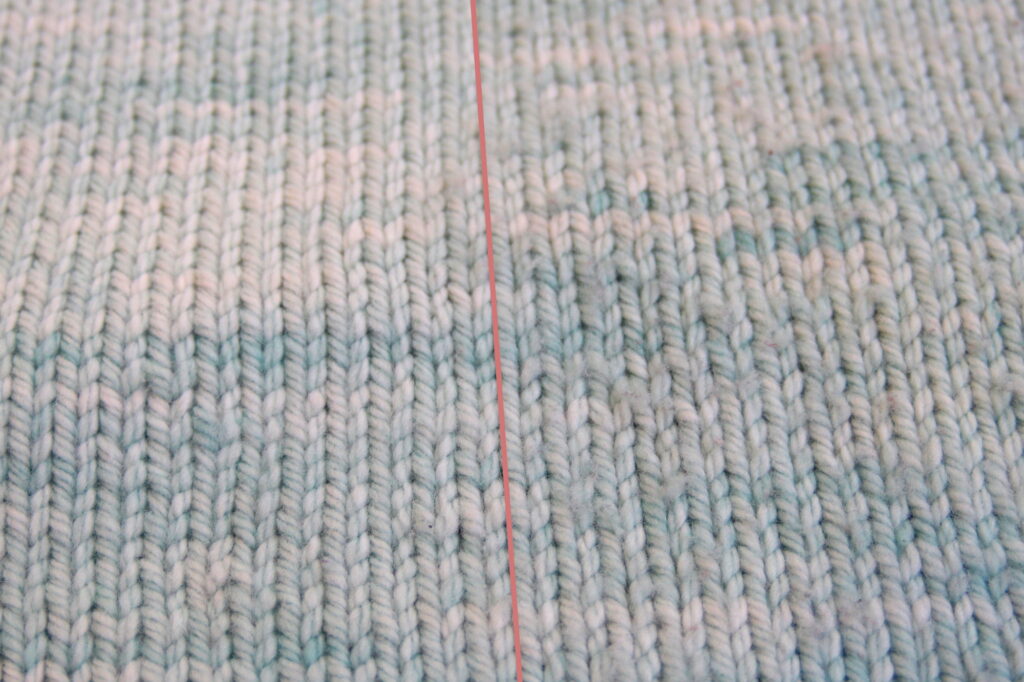 Shaving your woollens will not only make them look tidier but it can brighten their colour too. Bobbles come from loose fibres being pushed to the surface of the fabric by continuous abrasion which overtime cause them to aggregate into little bundles of fluff. Although barely noticeable to the eye these loose fibres can dull the fabric. By shaving the fabric and getting rid off these little fibres it can return the colour to its former glory. This is quite visible on the photo above where the left side has been shaved and the right side has not. In comparison the right side look grey and dull.
It's hard to get as much enjoyment out of wearing something which looks a bit old and worn out. The magic of shaving is that it really freshen up your knits and make them look like new again. When you spent that much time knitting yourself a jumper or a cardigan it is really worth putting the effort to maintain it in good condition. But remember, always test the shaver in an inconspicuous place before going full pelt.
If you're intrigued to try shaving you knitwear check out the Gleener. To learn more about our knitwear care routine have a look at our hand-washing tutorial. We've also written another tutorial on how to stop moth infestation at home – very useful at this time of year!
-Eugenie
Until Next Time… Happy Knitting!