Completed Project | Put a Sock in it
Put a sock in it has a great 'story behind the phrase' story. I was told it by my step dad was showing me his mum's old portable wind up record player which she had been given for her 21st birthday in the 1920s. We had it going and it was quite quiet. Being a late 20th century child (I'm not that young, I did own a walkman), I looked around for the volume, a button a knob something to turn. There was nothing. Underneath however, built into the case was the horn and stuffed in the horn was an old rag, not a sock, but a muffling device. And this apparently was where the phrase was born, as a way to tell someone to turn the music down where there was no way to electronically turn it down. Whether or not this is true I have no idea, but I do like it as a story.
Anyway socks… here are some which could be used for volume control but probably won't.
I had these Fika socks on the go for a long time. They were my back burner project for doing while on the go. However with the shop still being pretty new I haven't really been "on the go" very much at all in the last 8 months so they took me a while but I love them.
Designed by Maribeth White for Spring Issue of Pom Pom Quarterly the construction is a little different than your average sock pattern. The heel is really small and neat and the little pop of colour at the toe is the perfect little addition. You may have noticed however that my Fika don't look exactly like the originals. My one change was that I did a princess sole. It is something that has been discussed around at Knit Night here at YAK. I have delicate little tootsies and have always felt the purl bumps quite harsh. Pathetic I know but I love knitting socks  so I really wish I didn't. So it was recommended to me to try a princess sole whereby the sole stitches are purled rather than knitted leaving a smooth interior for my delicate toes. I don't think they do look as good visually but the real test will be if they make a difference in wearing. Just yesterday we had our first properly cold day in Brighton. Winter coats are making an appearance so woolly socks will be close behind.
My second pair are again a simple design, a combination of different patterns I've mashed together. They are knitted toe up – the first time I've tried that technique – and the slip stitch I got from this Raverly pattern. I chose to do a slip stitch because I didn't want to do a plain sock but I also didn't want to do something complicated for it to get lost in the yarn. Oh the yarn! Dubbed by YAK sidekick Emma as My Little Pony yarn I came across the German based dyer Baerenwolle on Raverly and fell in love with this colour, Glam punk.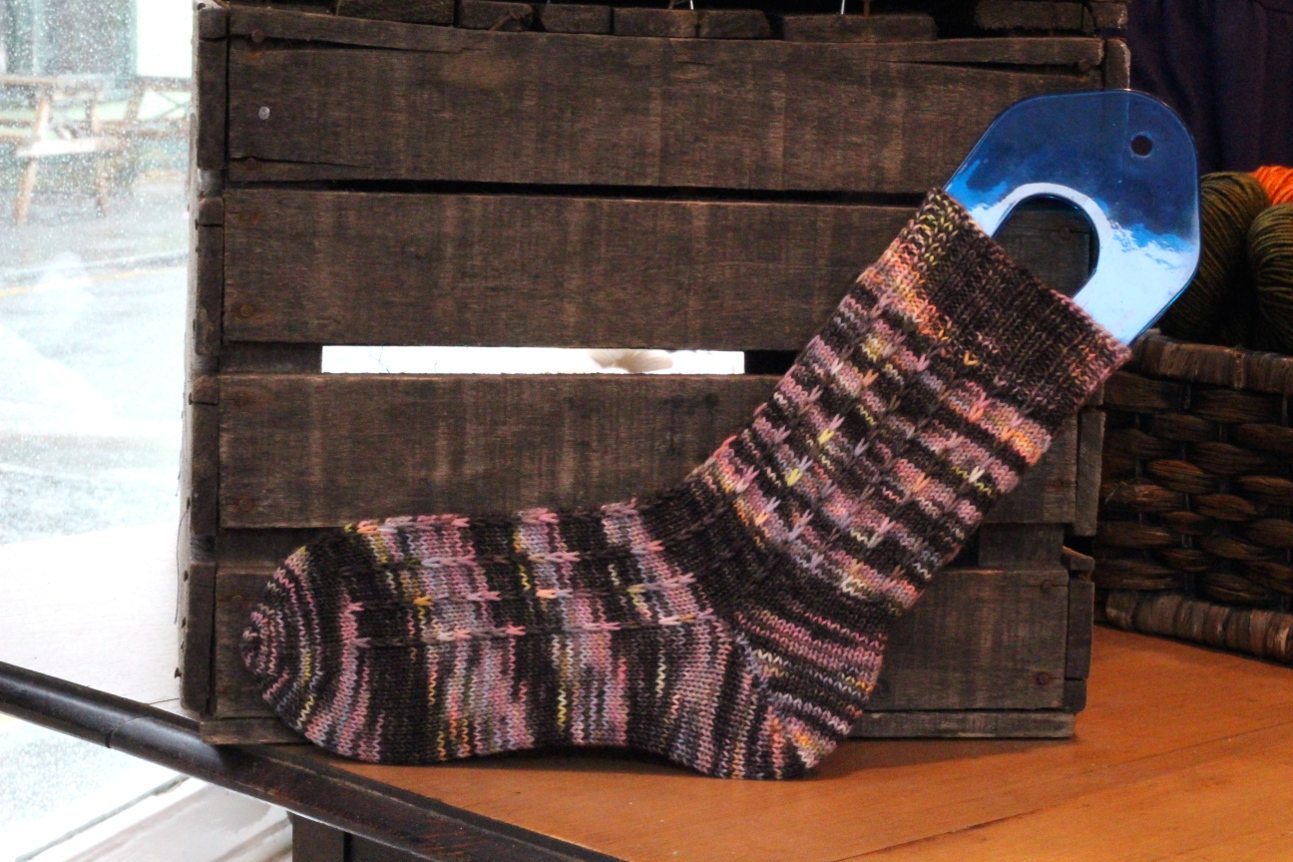 The heel was something again recommended at Knit Night, the Fish Lips Kiss Heel. The pattern has a lot of great information in it for sizing your sock but it is long and a lot of text to work though to find the actual heel steps. Once you're there and doing it though, it really is great. And after the first few rows it completely makes sense what you're actually doing and the outcome is fab. No wrapping, no holes just a snug shapely heel.
Love socks as much as me? If you are interested in improving the way you knit socks we have a brilliant sock class coming up at YAK. Advanced Sock Techniques will take you through several advanced techniques for changing the cuff, the heel, the gusset and the toe of your socks. You will also be shown different needle types including knitting on 2 circulars and Magic Loop. You will leave this workshop with a mini sock showing your new techniques.
This class will run on 25th October from 10:30-4:30. You can book online or pop in the shop sign up.