There is something quite special about autumn and winter knitting, in the making as much as in the resulting product. It makes those cold rainy days somehow more meaningful, the act of creating giving them a new purpose. If you're lucky to have knitting socials in your town or simply enjoy meeting up with friends to get your needle work done, you also know how comforting it is to be knitting in a group, especially after night fall.
The cold temperatures remind you the need to keep yourself warm, while approaching Christmas makes you consider what your relatives would enjoy wearing. It's about making and caring, for yourself and others. It's in that state of mind we selected our four patterns for this month Round Up. We hope you'll like them as much as we do.
First on our list is Pooch by Dani Sunshine. This adorable hat is designed to cover the ears of the wearer, perfect to protect your little ones from the cold during long walks and days spent outside playing with friends. The hat is knitted in the round from top to bottom and requires sport weight yarn. For this one we would recommend you Ulysse by De Rerum Natura. 
As you may already know we recently restocked some of the Delicate Merino by Walk Collection. The colour palette is so rich and varied, we could hardly resist to feature a pattern that would match this yarn. We chose the Lakeside Shawl by Martha Wissing because its plain texture would nicely highlights the variations from each colours in the range. Only one skein would be needed to complete that project and as the original pattern has been designed with a lace weight, the shawl would end up being slightly bigger which is always plus.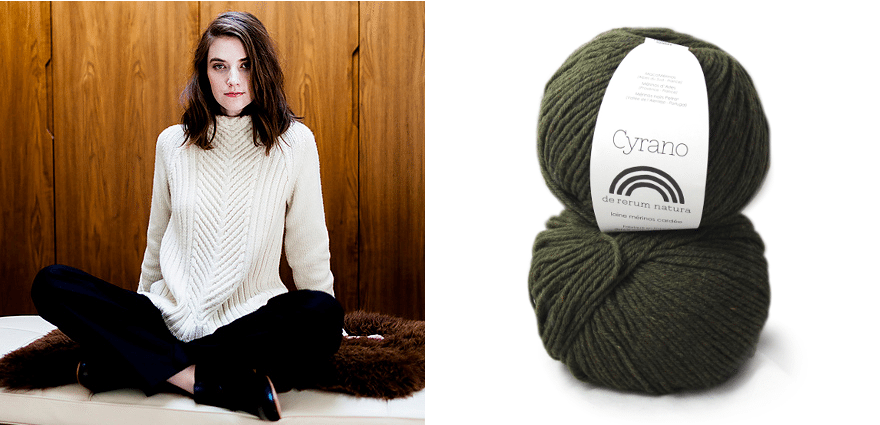 Tov is the name of Woolfolk latest collection, but it is also the name of the Aran yarn released by the Danish company in September 2016. The whole collection is beautifully minimalist, elegant and the sole use of white makes a great job at enhancing the textured motifs of each design. We chose to feature the beautifully cabled Gevir in this round up but the whole collection is so gorgeous, we would strongly advise you to have a look at it. 
Gevir is worked flat, from bottom-up and is designed with raglan-sleeves and funnel neck. The geometric motif is made of a combination of ribs and staghorn cables that only plain colours would do properly justice to. De Rerum Natura's Cyrano would be a great match for this pattern. This full yarn has a great stitch definition which will really highlight and make the most of all of the Tov collection patterns. 
Our last pattern this month is My Dear Watson by Nadia Crétin-Léchenne. This lovely cardigan may be a simple shape but the front panel detail gives all the interest it needs creating a very smart looking piece. It's a lightweight knit perfect for these transitional days. Nadia has sized this up from babies and kids to adult's XXL so if you fancy doing the matchy matchy thing the option is there! 
We've paired this pattern with Malabrigo Sock, one of our most versatile yarns. With both variegated and semi solid colours there are loads of options to choose from depending on your personal style. 
That's it for this month but as we fall (get it? Fall) into my favourite time of year I can't wait to see the patterns released in November. 
Until next time, happy knitting.