Weight:
aran
Fibre:
75% organic cotton, 16% recycled wool, 9% cashmere
non-superwash
Ball:
Needle size:
4.00 mm (US 6)
Gauge:
17 – 18 stitches
10 cm (4 in)
Spin:
blown spun
Processed:
milled & dyed in Italy
Care:
hand wash. Work may shrink up to 7%, but will recover with use
Høst means harvest in Danish, represented beautifully by the unique range of autumn colours which give a sense of comfort and warmth. 
These colours are dyed using a special spraying technique directly onto the cotton chainette core, which gives the yarn a distinct melange.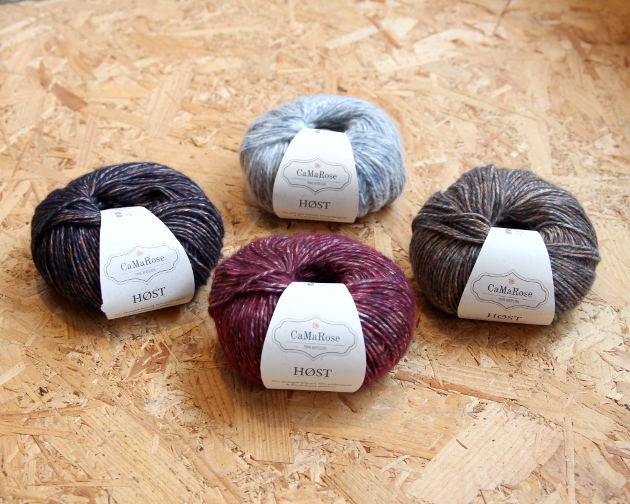 The core of Høst is made of an organic cotton chainette. The recycled wool and cashmere fibres are blown into this chainette for a luxurious finish. This method of spinning creates a wonderfully light and airy fabric, prefect for all types of projects.  
CaMaRose carefully selects suppliers who engage in sustainable business practices – including animal welfare. Høst is spun in a family-owned mill in Italy.
Looking for something thicker? Snefnug is Høst's bigger sister. Same blown spun but with a slightly different fibre blend and in a aran weight.