Macrame seems to be everywhere. Not only thousands of images of pot hangers, bracelets, hand bags and hangings are flooding social media everyday, but there's also more and more of you coming to the shop asking for macrame supplies. As we do not like to be left out, we've decided to give it a go and try our luck at making plant pot hangers.

Macrame traditionally requires the use of strong cotton ropes. However it can also be done with a wide array of other fibers as long as the cord is strong enough to carry the weight of a pot and doesn't stretch too much over time. Wool and the Gang recently started selling Jersey Be Good macrame patterns so it seemed quite obvious to get started with one of them. Beside the Jersey Be Good colour palette is so fun, this also gave us the opportunity to use the pot hangers to refresh our window display for the summer.
Neither Kate nor I had any previous experience in macrame so it was quite interesting to see how two complete beginners would deal with those patterns and a new craft altogether. At first we were surprised how much measuring and cutting needed to be done, as you basically have to prepare each individual strands of yarn before you can start your project. We also found the process of tying multiple knots a little bit time consuming but once we get the hang of it, we were able to go faster. Patterns were clear and easy to follow, however we would definitely suggest you to look at them regularly to avoid any mistakes – one of the hangers is made out of 24 strands of yarn so it is quite easy to get confused!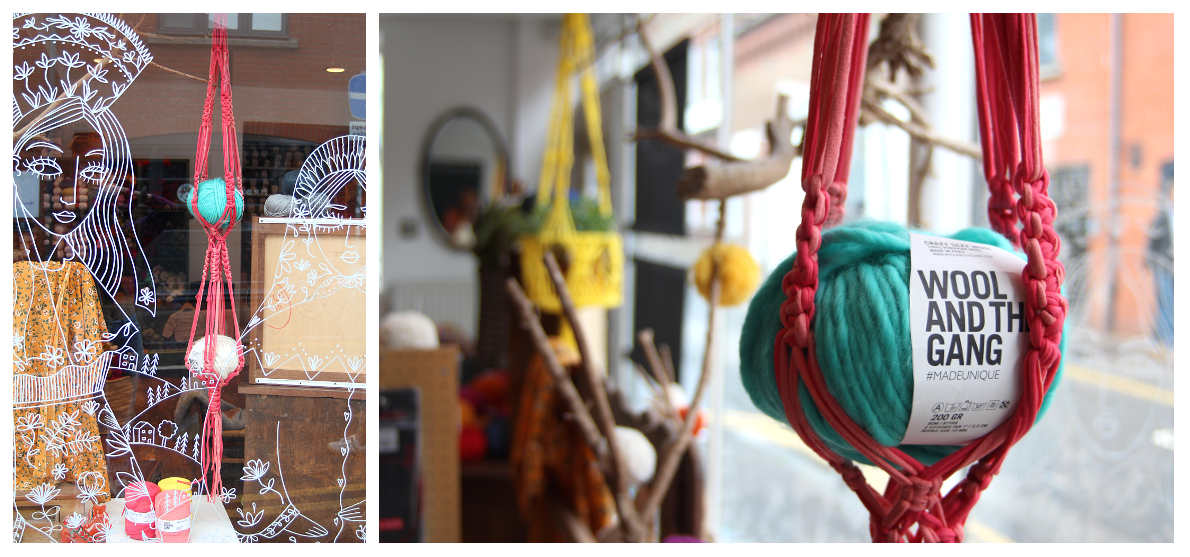 Although most tutorials will suggest you to attach the top of your hanger to the back of a chair or a door handle, we found out that it is actually much easier to attach it somewhere high, like a curtain rail. In this way you can really see your project taking shape and position your knots as symmetrically as possible. Also if you don't tie the first knot with an equal length of yarn on both sides of the trigger ring, some of the strands might can end up being too short to finish the hanger with a nice long tail.  We would therefore suggest you add several inches to the length of each strand, in this way you won't have to worry to tie your first knot perfectly symmetrically.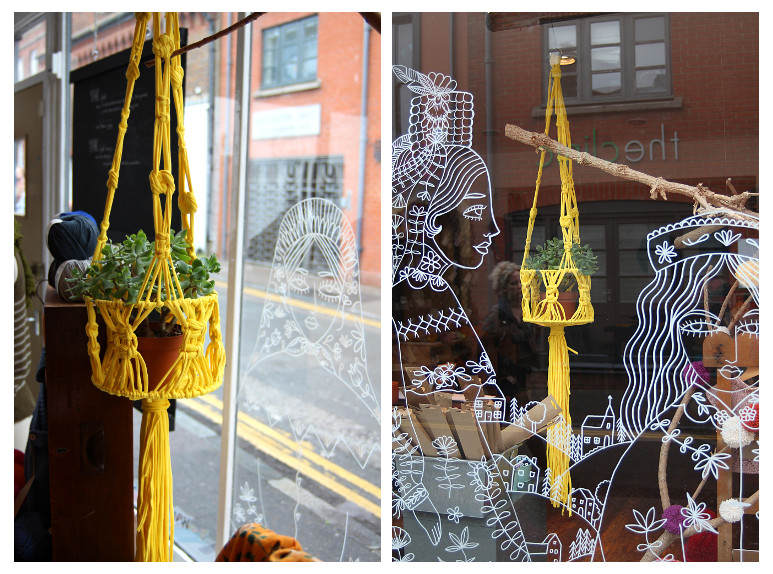 Both pot hangers look great once finished and considering they only require one cone of Jersey Be Good each, these are the perfect projects to bring an extra bit of decoration into a room, on a fairly low budget. It could also be a great way to keep older children busy during rainy afternoons spent at home. If you too want to experiment with Macrame, both of those pot hangers are now available as kits in the shop!
For more explanation about macrame techniques, check out these video tutorials on Wool and the Gang website!

Until Next Time… Happy Knitting!