This month YAK is turning 5! To celebrate we have lined up a special weekend, a knitting extravaganza starting this Saturday 18th January.
We'll kick off with our annual birthday sale which will include a 20% discount on all yarns, books, needles and accessories**. The sale will run in store and online Saturday 18th & Sunday 19th.
In store we are open our usual weekend opening hours. Online sale will start at 9:00 am on Saturday and finish at 10:00pm on Sunday.
Online you will need to put the code
yakturnsfive
at the checkout to receive the discount.
In store we have a little extra surprise. The first 20 customers walking through the door will receive a surprise goodie bag packed with woolly goodness. Contents of the bags won't be revealed until the big day so you'll have to come around to find it out for yourself!

With regards to the recent events and the ongoing tragedy that is the Australian bushfire crisis we've decided to use our birthday as a way to fund raise and send some much needed money to help. As you know every little bit helps and can make a tremendous difference in the long run. Our fundraising will come in the shape of a raffle – all the funds collected will be donated to the Red Cross Disaster Relief and Recovery which provides psychological and practical support to individuals and families affected by the bushfire. This includes emergency assistance, support of evacuation centres, psychological first aid and long-term recovery programs. Click here to see the full extent of their work.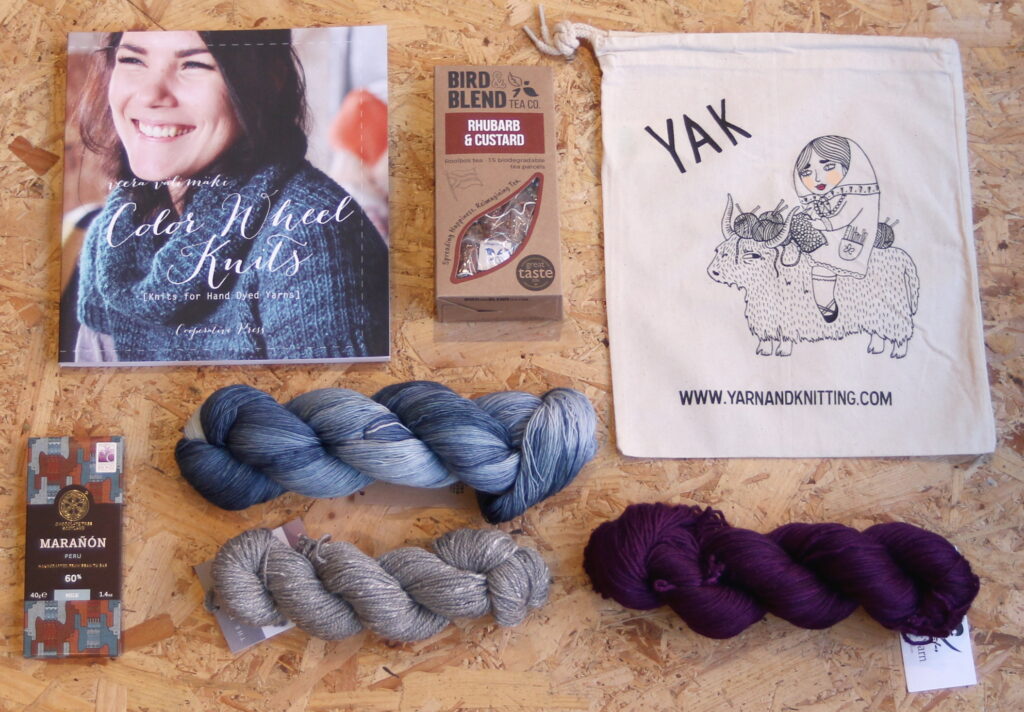 Raffle tickets will be available to purchase in store only at a price of £1 per ticket on both Saturday and Sunday. The winner will be drawn on Monday and will receive the lovely hamper pictured above. Our hamper includes three gorgeous skeins of yarn, a copy of Color Wheel Knit by Veera Valimaki, a pouch of delicious Bird & Blend Tea Co and chocolate from Chocolate Tree Scotland.
We are very excited to see you all this weekend to celebrate our 5th anniversary together. And don't forget to come in early in order to secure yourself a goody bag!
The code for the sale online is yakturnsfive

Until then… Happy Knitting!
** Classes and items already discounted will be excluded from the sale.