Birds of a Feather: New Pattern Kits
Birds of a feather flock together.
When we introduced our Birds of a Feather custom colourway collection by Life in the Long Grass we were overwhelmed by the response. Yarn so special was crying out to have their very own patterns designed. So, while we were waiting for our next lot to be dyed up we commissioned three accessory designs to compliment this highly variegated yarn.
All three of these designs are available as part of kits with the yarn. They are completely mix and match, you can buy any colour of yarn with any pattern. All the designs were created with variegated yarn in mind so work really well with the amazing array of colours.
First up, Little Wing by Renee Callahan.
A gorgeous top-down wing-shaped shawl designed for one beautiful skein of yarn. Renee's version is knitted in Blue Gouldian, the highlights and the dark spots give a depth of colour which really compliment the all over stitch detail. This shawl could easily be made as large or small as you would like but at this size it makes for a great everyday shawl.
Our next pattern is called Nesting.
I really wanted to get in on the action when these colourways came through the door. This fingerless mitt pattern are my own design and I just love how they have turned out. They are just one size but are designed to have a lot of negative ease (I like a well fitted mitt) so they should fit an array of hand sizes. I think the twisted stitch pattern look like little nests. Mine are knitted in the kingfisher colourway.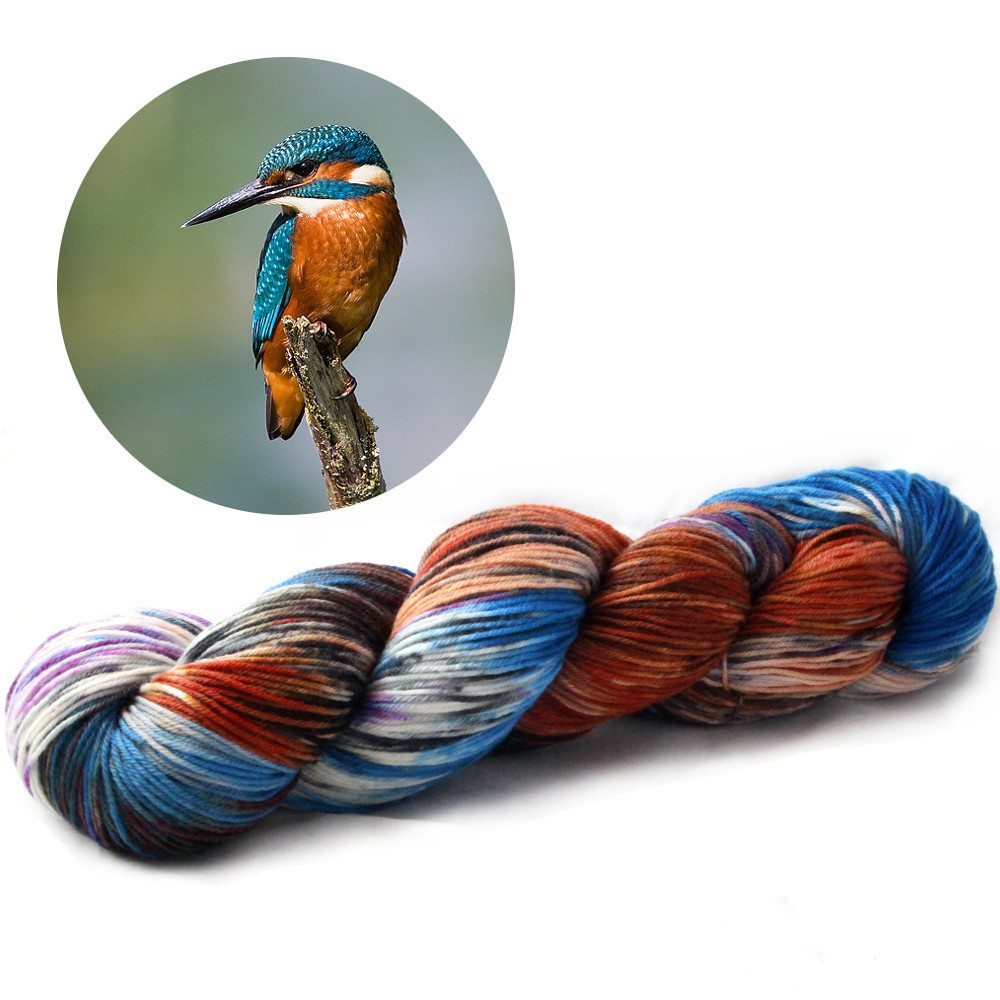 And last but no means least Avia by Rachel Coopey.
A fabulous pair of cuff down socks with some great details. If this colourway doesn't hit between the eyes you I don't know what will. Yet still Rachel Coppey manages to break through the madness of the Lilac Breasted Roller with those wandering cables and twisted stitches.
As I said above all of the pattern kits are available in any of the bird colourways, we already have a pair of the Avia socks cast on in the Parakeet colourway and a Little Wing shawl in Gold Finch at the shop and they are coming out just as fabulous! For further information on the sizing, needles, and all the other pattern details please go the kit pages.