This year I decided to challenge myself with my knitting and try out new techniques that I've been avoiding, one of which had been stranded colourwork. I absolutely love the look of yoke sweaters and traditional fair isle but it is very out of my usual style, so much so that I think I would spend weeks creating a beautiful piece of knitting and then never end up wearing it!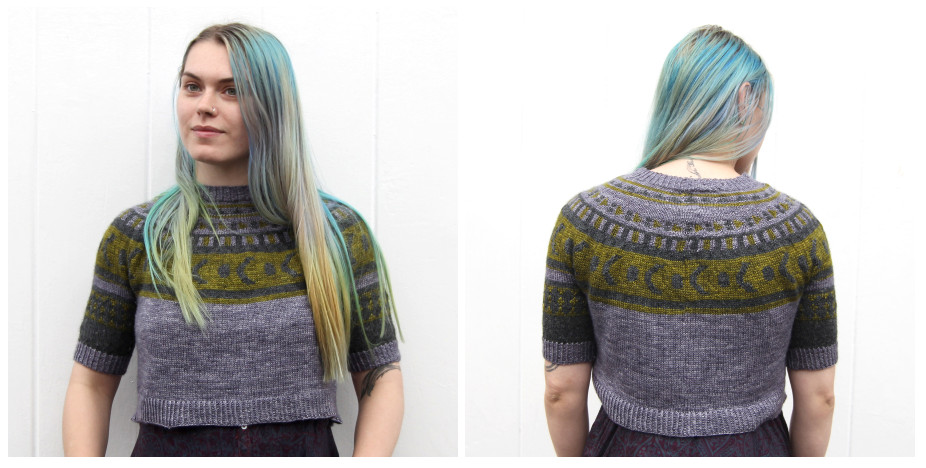 I stumbled across The Half Moon Tee by Dragon Hoard Yarn and I knew it would be perfect for my first colourwork knit! Worked in the round from the top down, this gorgeous cropped yoke tee has moon motifs across the bust which fit in amazingly with my style.
I'd been eyeing up The Uncommon Thread Posh Fingering for a while as I'm absolutely in love with their other bases, and I knew instantly that I wanted to use the colour Zitouni. As someone who often changes her hair colour it can be quite hard choosing non neutral tones as there is always a risk of the final knit clashing with my hair. Therefore I decided to use Zitouni as the CC1 so it would be more centralised in the garment.
I decided to choose some more muted tones for the other twto colours. For my MC The Uncommon Thread Posh Fingering in Penumbra was calling to me, a subtle grey/purple tone that I absolutely adore, and which pairs perfectly with Zitouni. For the CC2 I thought a neutral was needed, and went to my safety of a dark black/grey with Onion Nettle Sock in 1002 Koks.
Like many knitters who are new to stranding, I forgot to account for the difference in tension between my stockinette and stranded sections. It took me a couple of attempts and experimenting with needle sizes before I successfully got the same gauge in both sections, and the yoke had to be frogged several times before I was happy with it. I found a couple of great tips to help me along the way which I won't share here as we'll be writing a post on stranded knitting for beginners soon!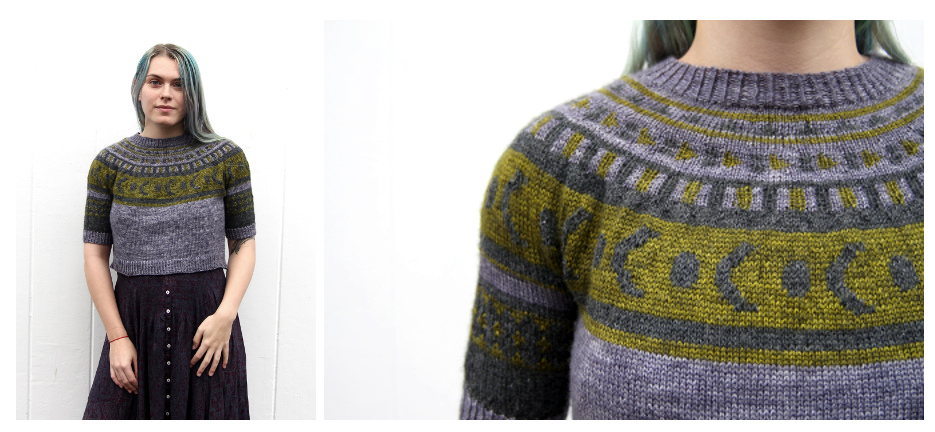 Even after several attempts certain sections were still a little bit tight but luckily blocking has smoothed it all out! This piece was definitely a learning curve but I have fallen in love with stranded knits, and I'm currently planning my next one!
Until Next Time… Happy Knitting!