Last autumn the Fibre Co. collaborated with their favourites indie designers to create a collection of patterns using their newest yarn Lore. Seventeen designers took part in the project resulting in the creation of 21 beautiful garments and accessories. Already having been won over by Lore we were eager to get our hands onto the Borrowdale collection. We felt that many of you would enjoy seeing it as well and so we decided to organise a little trunk show with 6 items from the collection.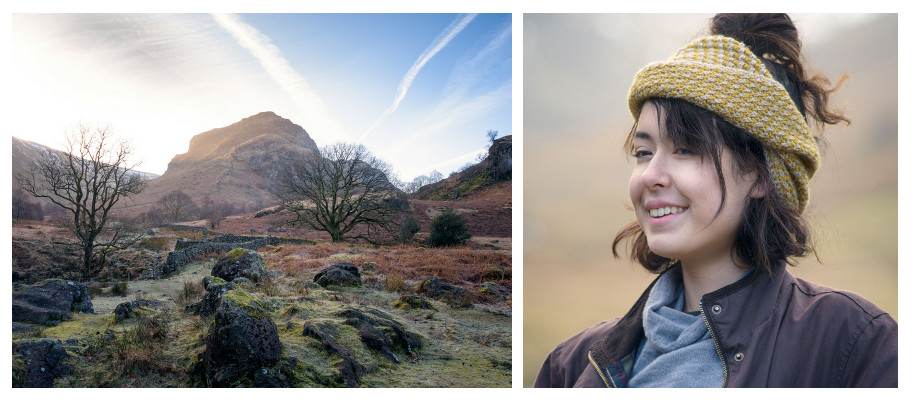 The collection is inspired by the Borrowdale, a valley located in the Lake District National Park in Cumbria. The valley is renown for its dramatic views over the ancient volcanic mountains, its beautiful hikes and quaint little villages. It's in that spirit of celebrating the British wilderness that the Borrowdale collection came about. Each piece was designed for outdoors adventures and lounging days alike. They are cosy garments made to keep your warm during long winter walks and evening in at home.
They also strike a good balance of wearability and technicality. Their classic shapes mean they can easily be worn with a lots of different outfits. On the other hand the combination of interesting textures and colour motifs would make them very enjoyable to knit too. Their traditional looks work perfectly with Lore's rustic and lofty handle.
There were few samples that we were particularly looking forward to seeing in real life. Like Brandelhow by Natasja Hornby or Knotts View by Janne Kleivset. Some others revealed themselves as soon as we unpacked the collection like Hazel Bank by Marie Amelie Designs. That is why trunk shows are so good. They allow you to get a real feel for each piece and give you a new appreciation for the quality of their design.
The Borrowdale collection will be with us until the 26th of June. I hope you will like it as much as we do!

Until Next Time… Happy Knitting!