I am please to finally share with you a preview of my Grunge & Glory cowl! Again this is a project which took me a while to finish but somehow this seems to be a recurring theme for me at the moment… I had the idea of knitting a stranded cowl with an allover daisy motif ever since last winter. I originally thought using the Jamieson & Smith 2ply Jumper Weight. I'd even chosen the colours and was waiting to cast off a couple of other WIPs when we received our first order from Sandnes Garn. As soon as we unpacked the Alpakka I knew this was the right yarn for this project.
Made of 100% alpaca Alpakka is a super soft DK weight – perfect for something worn next to the skin. As the colours happened to match exactly the one I'd originally chosen in the
2ply Jumper range
it really didn't take long for me to change my plans and get ready to cast on. I've never knitted with an 100% alpaca yarn before and I was quite surprised how strong this fibre is. I really have to pull hard to break the ends with my fingers.
Knitting with
Alpakka
felt quite different from a woollen yarn and it took me some time to adjust and get my colourwork tension right. It is very soft and slippery which somehow makes it easy to pull on one of the strands without realising it. Unlike with a sticky yarn the different strands do not lock into one another so as soon as you pull a little bit on one of them it messes up the tension. Saying that it didn't take long to get used to it.
My gauge is about 24 stitches over 10 cm which is fairly tight for a DK. I normally knit loosely and most of my DK projects are around 20-21 stitches over 10 cm so I'd definitely say
Alpakka
is on the light end of the DK weights. Like all
Sandnes Garn

 
yarn it comes in a very stylish colour palette of modern colourways that are easy to mix and match. As a child of the 90s my mix of charcoal (koksmelert), cream (kitt) and mustard (sennepsgul) is a direct tribute to the floral prints of the grunge era but I could think of several other combination which would would also look great together.
As you'd expect from a 100% alpaca base
Alpakka

 
knits in a beautiful flowy fabric. However it still has enough structure and doesn't feel 'floppy' as sometime alpaca does. Being a worsted spun it is also dense which gives the cowl a nice weight. Alpaca always feels luxurious and looking at the colour available it would be a fantastic option to knit yourself an elegant yet cozy jumper. Maybe something like the
Paloma

 
jumper by Espace Tricot or the
 

Kukka Sweater

 
by
Rosa P.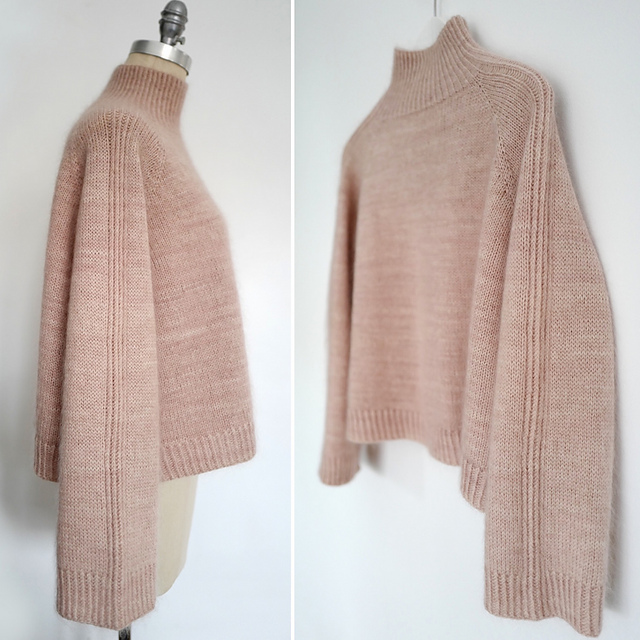 The Grung & Glory cowl isn't ready for publication yet (surprise surprise) but please be assured that we will keep you informed as soon as it becomes available.
Want to learn more about our yarns? 
Click here to read all our reviews.
Until Next Time… Happy Knitting!