April started out with such beautiful weather, but the last week or so has been very hit and miss – at least in Brighton! It's left us wondering whether to continue with summer knits, or to try and fit in one last cosy project before the warm weather fully comes around. We've selected a handful of patterns to help inspire your knitting in this transitional period!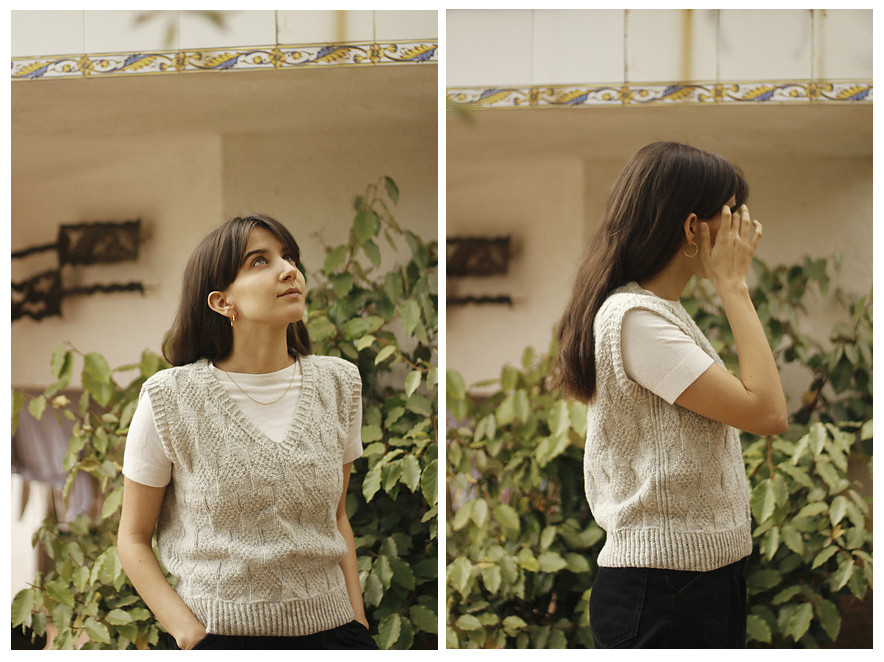 To start with we have The Stanley Slipover by Vanessa Pellisa, the perfect pretty vest to style with your favourite blouse or dress. This piece is knitted in Rauwerk Sport which is now on sale at YAK! Use a soft pastel tone such as Alpen-Uergissmeinnicht for a romantic feel, or put a spring in your step with a summer bright such as Alpen-Aurikel.
The Color Quadrant Crop by James N Watts is the perfect spring / summer knit! An introduction to simple intarsia, this four-color crop top can be knit as a T-shirt with a classic silhouette or as a sleeveless tank top. Use Fyberspates Tarma Aran for some fun hand dyed colour blocks – and minimal wastage with 65m per skein!
We're in love with Ochre Moss by Andrea Mowry, a classic cosy, high necked raglan pullover perfect for any outfit. Knitted from the bottom up in a heavy DK / light Worsted weight yarn, we think Gilliatt would be the perfect fit with it's soft, bouncy texture and vast colour range. Try a combination of Genet and Goeland for a similar earthy tones, or mix and match the colours to your personal preference.
The Secret Garden Scarf by Mary W Martin is an absolutely stunning reversible knit that we can't get enough of! Inspired by a serene garden, this scarf has a leaf design on one side and the fence on the other to represent a place of calm. Two fingering weight yarns are held together to create a worsted weight knit – Try The Uncommon Thread Posh Fingering for a luxurious fibre to match the beautiful details in this knitted work of art.
Add some late 90s / early 00s nostalgia into your spring/summer wardrobe with the Spring Forward Cardigan by ShanaKay Salmon. Knitted flat in a DK weight, use MoYa Cotton for the perfect summer cardi in gorgeous bright tones. Our perfect colour match? Hydrangea as the MC with Lagoon for a CC.
Worked in two strands of lace weight, the Lily of The Valley Blouse by Yeon Hwa Lee is the perfect spring knit with a romantic, feminine touch. We think the pastels tone of CaMaRose Midnatssol would be perfect for this jumper, or alternatively use Onion Silk & Kid Mohair for deeper tones with a touch of luxury.
Thi, meaning "poetry" in Vietnamese, by KC Knitting Co is a sophisticated twist on a classic tee. Thi uses fingering weight yarn, knit at a moderately loose gauge or Sport weight for a denser fabric. We think Darnie would be great for this tee, to create a rustic tweed effect. Alternatively, the gorgeous hand dyed tones of Black Elephant would work a treat – and this stunning yarn will be restocked in the next week!
Need some more knitting inspiration? Click here to view all our pattern suggestions.
Until Next Time… Happy Knitting!