April always feels like a month of transition which is reflected in our knitting and crochet pattern choices this month. Some days you can dress like it's full blown spring in light tops and no tights. The next you're back in your woollies and a coat.
OFF THE GRID BY AFIFA
Off the Grid by Afifa is the perfect transitional top that can be worn alone or styled with a something underneath. Knitted sideways the main body of the top uses a woven stitch. The central panel features a tuck stitch detail in a contrast colour. I think it would also look great in just one colour, the texture doing all the work. I love that because it's knitted sideways you get the drop shoulder boxy look. 
Knitted in a DK, Off the Grid would make a great spring project using Retrosaria Mungo. A great blend of 50% Portuguese merino wool and 50% recycled cotton. 


ARLECCHINO BY SOPHIE OCHERA
How adorable is Arlecchino by Sophie Ochera? If you've had a look at her other patterns you'll see how much she loves a cacophony of colour and this Arlecchino is no different. A bold colour extravaganza that your little one is sure to love!
Choose contrasting hues of 4ply weight yarn for this project, the large range of Jamieson and Smith 2ply Jumper Weight would be perfect as the 25g balls let you mix and match with minimal waste!


STRAWBERRY BASKET SOCKS BY DANA RAE MAKES
The Strawberry Basket Socks by Dana Rae Makes is the perfect sock pattern for those gorgeous single skeins of hand-dyed yarn you have in your stash. The subtle textured detail will keep the knit fun without drowning out in the speckled colours. 
Go for Black Elephant Sock or Audrey from our Beehive Yarns pop-up for some funky summer socks!


HEIRESS BY THE CRAFTY MD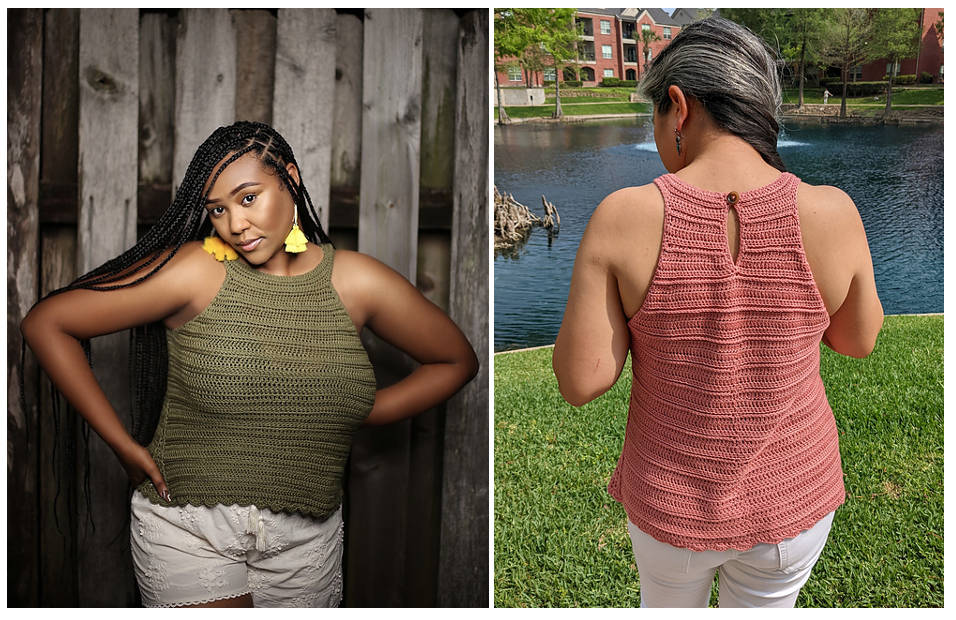 The Crafty MD has done it again with the Heiress Tank. A sophisticated crochet racerback tank top, there are a couple of cleaver details that really set it apart. The back eyehole is a stylish yet practical way to help get the top on and off but what I really love it the little wedge at each side. This extra bit of fabric give the shape just a little flare making the whole top slightly a-line. A charming detail. Definitely check out the finished projects on Ravelry. There are some really eye-catching examples in everything from bright pink to black. It looks great in all colours. 
See in the warm weather by crocheting this in Moya Cotton DK. The Moya is light, soft and has a great selection of summery colours. It would be the perfect choice.
---
That's all for today! We hope this round up will inspire you for your next project but if you would like even more inspiration then check out all previous pattern round ups. 


Until Next Time… Happy Knitting!