Are the storms and rain ever going to stop? At least it is great weather to get lots of guilt-free knitting done. Not that you should ever feel guilty about knitting but somehow the pouring down rain makes it even more enjoyable. This week we're serving you a short round up with our top 4 picks from this month releases.
First up is the beautiful Colours of Love by Marcela Chang Knits. This seamless top down jumper combines stripes and bobbles and is knitted pairing one strand of worsted weight yarn with one strand of lace weight mohair. For similar texture and a wide choice of colours we'd suggest Gilliatt and Onion Silk + Kid Mohair.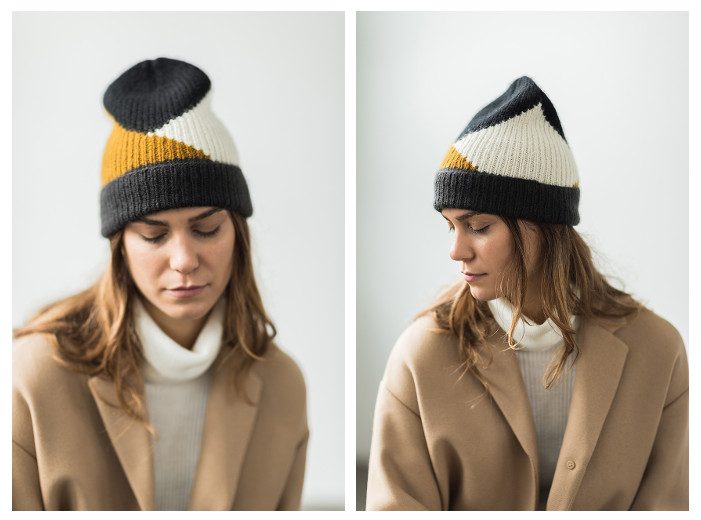 This little intarsia number by Jean-Philipe Cliche is worked using three contrasting DK weight yarn. The bold combination of colour blocks gives a very distinctive look to this hat. Lore or Rauwerk would both be great options for this project.

Chapman by Meghan Fernandes is a light and airy shawl published in the last issue of Pom Pom Quarterly. It uses Qing Melted Baby Suri – a 4ply with a brushed fluffy handle – coupled with a smooth superwash DK. We'll soon be receiving a new batch of Qing yarn which will include new colours of Melted Baby Suri and of Merino DK.
We'll finish this Round Up with the gorgeous Shetland Wall Flowers by Tracey Doxey. This classic stranded hat features a cute floral pattern alternated with rhombus. The version pictured above uses 11 colours of Jamieson & Smith 2ply Jumper. A dream project for any fair-isle lover.
Need more inspiration for your next project? Click here to browse all of our Round Ups.
Until Next Time… Happy Knitting!