Unlike yesterday when the sun was shining, today is a dreary day in Brighton. It's cold and windy which has definitely influenced my choices of patterns this month. Heavy yarn and cosy patterns, with keep all body parts warm at at the forefront of my mind.
First up is Chains Socks by Mone Drager.
Keep those toes toasty with these lovely chain stitch socks. Apparently the slip stitch pattern helps avoid pooling in variegated yarns. I just love the way that the slip stitch pulls the colours up and makes them pop making the striping look less fussy and more striking.  The pattern is available as part of an Interweave E-Book, Sockupied, which features 5 different sock patterns by different designers.
I've paired it with a classic self-striping yarn from Schoppel Wolle, Admiral Flakes. I would love to see how the slip stitch would influence the stripe.
Next up is Nori, a cute cardigan by Pam Allen.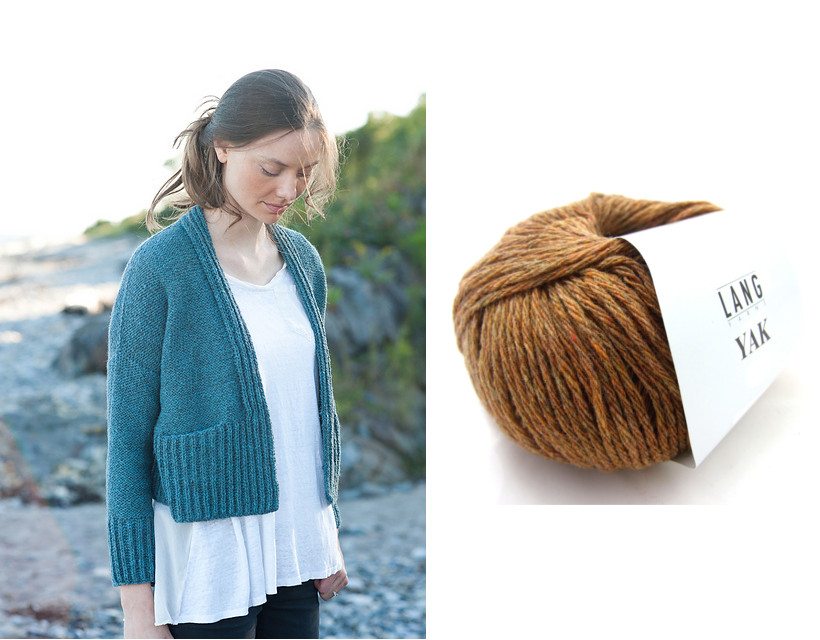 I just love the pockets on this cardigan. Worked bottom up the deep brioche rib starts you off and the drop shoulder design keeps the whole thing simple and neat. It seems the love for brioche is still going strong and I have to say I love the look, especially as a feature like this rather than an all over design.
The sample is knitted in a 50/50 wool and alpaca blend so to make sure it would have a similar feel I have paired it with Lang YAK, a super soft and cosy 50/50 wool and yak blend. It's worsted weight so it should be a fairly quick knit and of course lovely and snug.
Swedish Pancakes by Dianna Walla is next on my list.
If you follow YAK on facebook you might recall me talking about coveting this pattern already. When I do admin in the shop my hands tend to get really cold so a pair of fingerless mitts like these would be perfect. They are one of the patterns in the spring issue of Pom Pom Quarterly. This issue's theme is minimalism particularly looking at Scandinavian style and it includes some lovely articles and recipe for cardamom rolls as well as the fabulous patterns.
I chose Eden Cottage Yarns Titus 4ply, a lovely 70% merino, 30% silk blend for these mitts. Warm and soft I couldn't resist putting my favourite colour combination up, blue and yellow, willing the spring daffodils to come up.
Last but not least, Farmhouse by Cabinfour.
One of our regulars at the YAK shop in Brighton introduced this pattern to me. The story of the farmhouse, wrapping this around yourself early in the morning as you head out to gather eggs is the cutest introduction to a pattern I think I've ever read. I want some hens and eggs to gather. Maybe if I knit this shawl a farmhouse will just appear.
The Soft Donegal has a really traditional feel to it without being scratchy. The tweed would give this shawl a lovely rustic look perfect for making believe you're sitting in a rocking chair on the porch watching the sunset. Maybe one day.
Hopefully the sun will appear soon and we move on to some spring time knitting next month.