We've been so busy these last few weeks that we've forgot to publish our last Round Up! To make it up to you we're going to bump up this month edition with twice more patterns selected from September and October releases.
We'll start with the lovely Coastal Crop Raglan by Tif Neilan. This simple top-down constructions makes it a great option for a first-time jumper. The contrasting cuffs and eyelet motif give it a nice little twist without making it overly complicated. Here Tif recommends a DK weight yarn but similar gauge could be achieved with a light worsted. Something like Rauwerk or Gilliatt would just do the trick.
Deliciosa by Norah Gaughan is a boxy crew-neck jumper with a very unusual cable motif. It is worked completely flat from the bottom up and comes with instructions for a longer body. For such a project you want a yarn with a lots of structure like the Soft Donegal, Gilliatt or even Tarma Aran.
Brioche and hand-dyed yarns are matches made in heaven. This seamless top-down raglan by Susanne Sommer features a striking brioche yoke echoed by contrasting cuffs. For maximum effect mix and match colours from the Black Elephant and LITLG sock collections.
And while we're talking about brioche let's have a look at the Doe Ears Headband by Lavanya Patricella. This cute two tones headband only requires a tiny amount of DK or Worsted weight yarn. A great pattern to use leftover yarns with or to make a last minute Christmas present. The version shown above was knitted in Malabrigo Rios.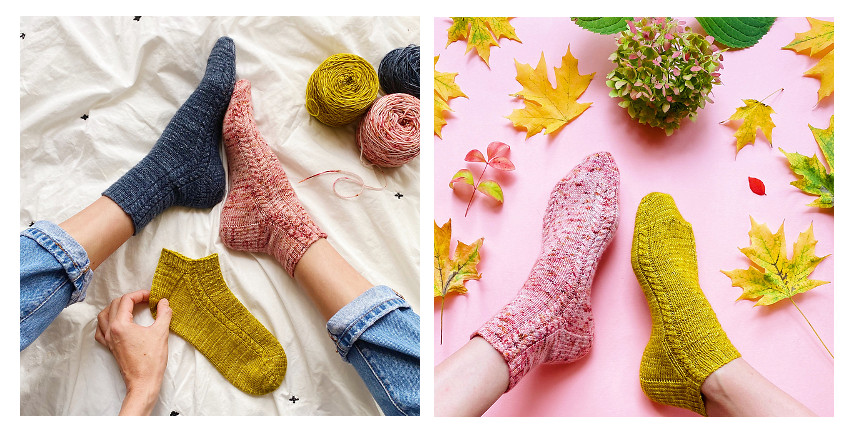 The Little Black Socks by Summer Lee is a cute sock pattern which combine side cables with a simple textured stitch over the foot. It includes instructions for multiple construction methods: forethought heel, heel flap + gusset and an afterthought heel. A great pattern for our new sock yarn Mondim.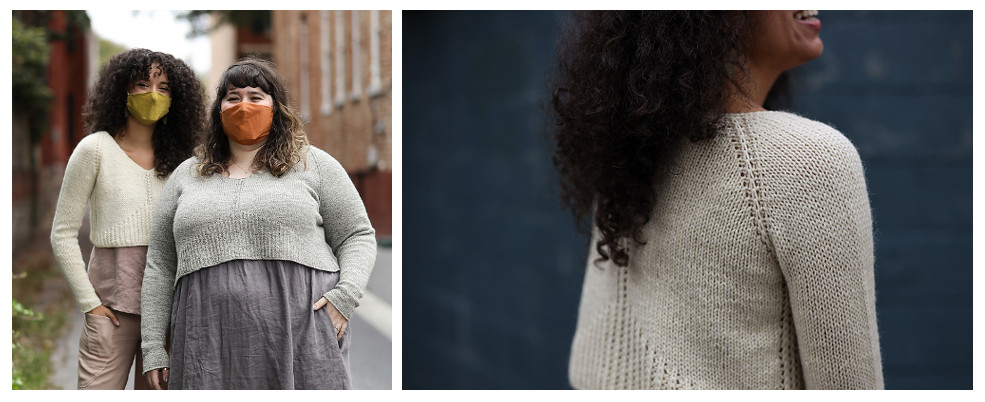 Ursina is one of those clever patterns that can easily be adapted to your liking and body shape. Raglans do not always work with larger breasts so here, Jacqueline Cieslak added instructions for optional bust darts in 6 cup sizes. It also includes a longer version and it can be knitted in both sport and worsted weight. It would look lovely in the new colours of Ulysse.
Ida by Sara Klint would make a great Christmas present. It uses four different colours of 4ply yarn – two of them being knitted together for the contrasting marled cuff. Sticky and sturdy yarns like the Jamieson & Smith 2 ply Jumper or Mondim would work best with this pattern.
Let's talk about crochet now. The JW Anderson Crochet Cardi by Zeens and Roger is a crochet adaptation of the JW Anderson patchwork cardigan gone viral after being worn by Harry Styles for a tv rehearsal. To lean even further into that 80s look we'd recommend using Snefnug or the Borstet Alpakka.
The Ranie Sweater is a lacy crochet jumper which combines oversized fit and dropped shoulders for a casual yet sophisticated look. Kelbourne Woolens Mojave will make it a perfect addition to your summer wardrobe.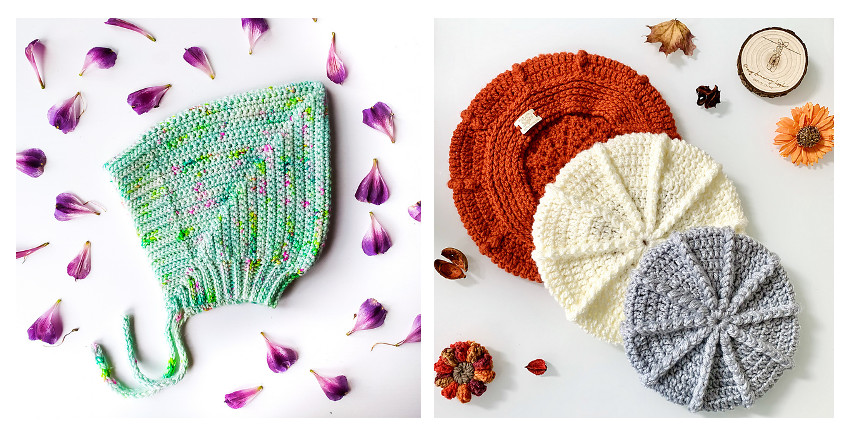 We'll conclude with these two lovely crochet hats: the Waterlilies Bonnet by Nomad Stitches and the Sun Ray Beret by Maria Yim. Waterlilies is a DK pattern with sizes ranging from preemie to adults. For babies and children version we'd recommend using the Sandnes Garn Merinoull as it is both soft and machine washable. Sun Ray also includes children and adults sizes and would work beautifully with Tarma Aran by Fyberspates.
That's all for today! We hope this Round Up inspired you for your next project but if you want more click here to read all our patterns suggestions.
Until Next Time… Happy Knitting!