One good thing about confinement is that it gives you plenty of time to peruse patterns and play the matchmaker with new yarn bases. So with no further ado here is our Round Up for March 2020.
Hryggr is a beautiful crochet jumper by Justyna Srock featuring a turtle neck, raglan sleeves and a faux backbone seam at the centre front and back. For a super soft and cuddly result we'd recommend using Sandnes Yarn – Alpakka Ull or Gilliatt for something with a little more structure.
Our expert knitting tutor and designer Dani Sunshine has released a lovely cowl pattern – Positivity – knitted in the round with textured stripes. This clever design has almost no purling (hurray!), instead the work is turned every 4 rows using German short rows to stop holes from forming. Match it with CaMaRose Snefnug for an extra fluffy and squishy fabric.
Next on our list is Kathi by Monie Ebner, an elegant DK cardigan worked seamlessly from the top down. The front panels are embellished by a combination of slipped stitches and yarn overs. Simple yet very effective. Any colours from the Sandnes Yarn – Alpakka collection would complement this cardigan very nicely.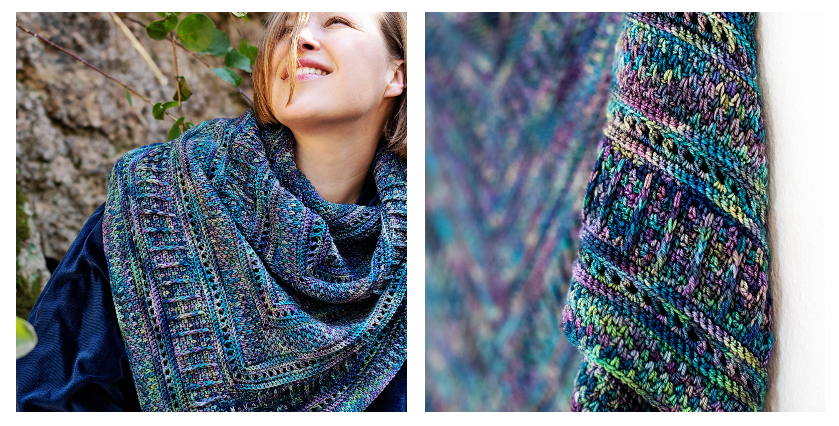 Variegated yarns and textured stitches do not usually mix well as texture tends gets lost amongst the speckles. To remedy to that problem Elena Fedotova has released a textured shawl pattern especially designed to work with variegations. Although the pattern asks for Malabrigo Sock, the Uncommon Thread Posh Fingering and BFL Singles are also both strong contenders.


Not one but two shawls this time with the 2-in-1 pattern Castor & Pollux by Nadia Crétin-Léchenne. One crescent-shaped the other triangular, both shawls combines colour work and subtle variations in texture. For this one we'd fancy something summery with a nice light palette like CaMaRose Organic Summer Wool.
We'll finish with Peri Peri by Valentina Cosciani – a delicate asymmetric lace shawl featuring a variation of the traditional Feather & Fan Shetland motif. This pattern would work best with a drapy yarn so again we'd be tempted to recommend the gorgeous Alpakka.
Until Next Time… Happy Knitting!