Summer Fibres: Cotton and Linen
You have to be practical with your summer knitwear. A good summer fibre should be light weight and breathable. Something sturdy that you can throw in your washing machine with no risk of major damage. You are more likely to sweat in your summer clothes so picking up a yarn that can easily be washed is essential. Most plant-based fibres will do the job and the ones you are more likely to come across are cotton, linen, bamboo, hemp, tencel and nettle.
Linen is the oldest fabric still in production today and has kept throughout history a prominent role within the textile industry. Linen is one of those magical fibres that keeps getting better and better the more you wear and wash it.  It becomes softer, drapier and hardly looses any of its initial sheen.⁠ ⁠And best of all, it is one of the most sustainable fibres available on market. When grown in appropriate conditions flax doesn't require any irrigation, pesticides or herbicides. Even better it retains 3.7 tons of CO2 per hectare per year and doesn't generate waste!⁠ If you want to learn more about linen's amazing properties please read the other article we wrote a while ago.
Cotton is a bit more of a contentious fibre. Its production can be highly pollutant and harmful to farmers. That is why it is important to choose your cotton carefully prioritising organic and recycled options whenever possible. On the plus side it is very soft and suitable for all sorts of projects including garments, accessories and home-ware. It has a great stitch definition and a lot of structure. Perfect for textured items like crochet blankets.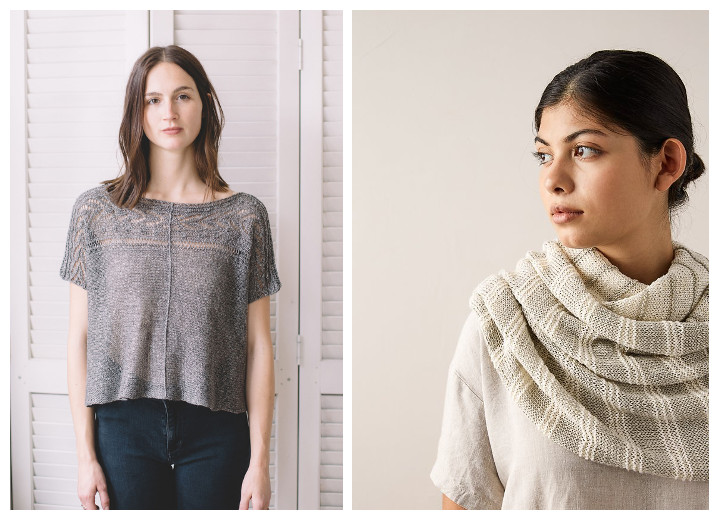 If you're planning to use linen or cotton for one of your projects but don't know which one to choose here is what you should take into consideration. Linen is the one with the most drape of the two. It will make for beautiful flowy tops and shawls alike. It is a little bit rough under the fingers at first but will eventually soften after few washings. Bolan and the Light + Shadow Wrap are good example of patterns that were specifically designed with linen in order to accentuate their drape.
Cotton is softer, more springy and bouncy. It holds textures and shapes better and works well with patterns that requires more density and tension within the fabric. Like the Sori cardi or the Rigmore's Summer shirt. When combined to synthetic fibre, cotton is also great for sock yarn. Rather than strength here synthetic brings extra elasticity to the thread while cotton will stop getting your feet sweaty.
In term of care and maintenance, both cotton and linen are pretty hard wearing. So really all it comes down to is drape and structure. We currently stock a lovely selection of summer yarn which includes the Swedish linen Kalinka, Moya, a hand-dyed cotton from south Africa and Tutti-Frutti a self-striping cotton sock yarn. If you want something in between, a cotton linen blend like our new Mojave by Kelbourne Woolens will completely hit the spot. It combines both the softness of the cotton and the drape of the linen. This yarn has gone through so little process that you can even smell the flax and cotton fibres in the blend!
Until Next Time… Happy Knitting!
SOURCE:

Linen – The Original Sustainable Material, Victoria & Albert Museum, Web.
https://www.vam.ac.uk/articles/linen-the-original-sustainable-material