Admittedly I haven't been the most proficient knitter lately. In the first year and an half of my knitting journey I have made a whole bunch of stuff that I ended up not wearing as much as I expected. Now I am trying to choose my projects a bit more carefully. By being more picky I am hoping to only knit items that I am going to wear again and again. I also abhor clutter so if I can keep my clothing to a minimal amount it's a win-win. As a result I've had to force myself not to rush through each project so I don't feel like I have to start new ones as soon as I cast off.

The Netherton Jumper by Lydia Gluck was one of those patterns I had on my mind for a loooong time before I finally decided to cast it on. I was just waiting for the right yarn to come by. As soon as we received the The Fibre Co. – Lore I knew I'd found what I was looking for. Beside the colour Happiness perfectly fits my current obsession for all the yellows and oranges so I couldn't have hoped for a better match.
As per usual my gauge was off: 20 stitches per 4" instead of 23. I really liked the drape of the fabric as it was so I wasn't willing to go down a needle size to adjust it. I originally intended to knit the size 2 which has a bust circumference of 34". With my current gauge it would have ended up being a size 40". Even the size 1 would have ended up too big. I found myself having to grade down the pattern in order to reach a size 34".
Netherton is a straightforward top down jumper with raglan shaping, a crew neck and 3/4 sleeves. It is knitted seamlessly and features a pretty textured motif around the cuffs and the hem. I kept mine very cropped and fitted. Looking at other projects on Ravelry it also works nicely with a few extra inches in the body and a looser fit. Lore was perfect for that pattern. It has the right amount of stitch definition and structure to highlight the roof top motifs.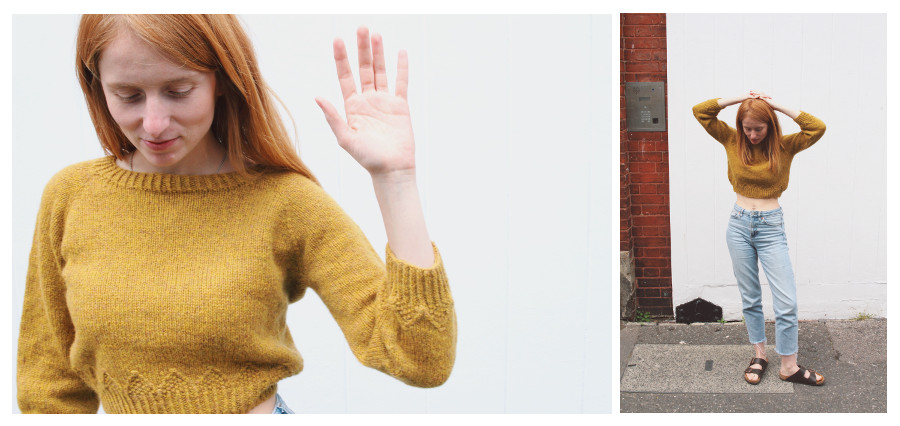 This would be a very good project for beginner knitters. The pattern is easy to follow and it is relatively quick to knit. It also covers a few basic techniques that are worth knowing like the wrap and turn short-rows and some basic cabling. The textured motif is very enjoyable and as it is a quick knit you don't really have time to get bored with the initial plain stockinette.
I considered ripping off the hem to add few inches to the body. Not sure I wanted it to be as short any more! My swatch had grown quite a bit after blocking so I decided to block it first before taking any decision. In the end the fit was good and I managed to get away using less than 3 skeins of Lore.
Until Next Time… Happy Knitting!