Go team inside out!
Finally, I cast off last week, blocked it over the weekend and managed to take some early morning pictures this morning – so please excuse the blurry eyes.
Unwind Brighton had so much fun stuff going on around the festival including various knit-a-longs.  And the Juniper jumper by Veera Välimäki was one of them.  I joined the party pretty late, around the beginning of June, and with the competition ending on the 31st the chances of me getting it done were slim to none.  Especially it being a fingering weight sweater.  So, I of course didn't get it finished in time for the competition, or in time for Unwind, but it was great fun chatting to everyone involved on the ravelry group and seeing everyone's jumpers appear one by one.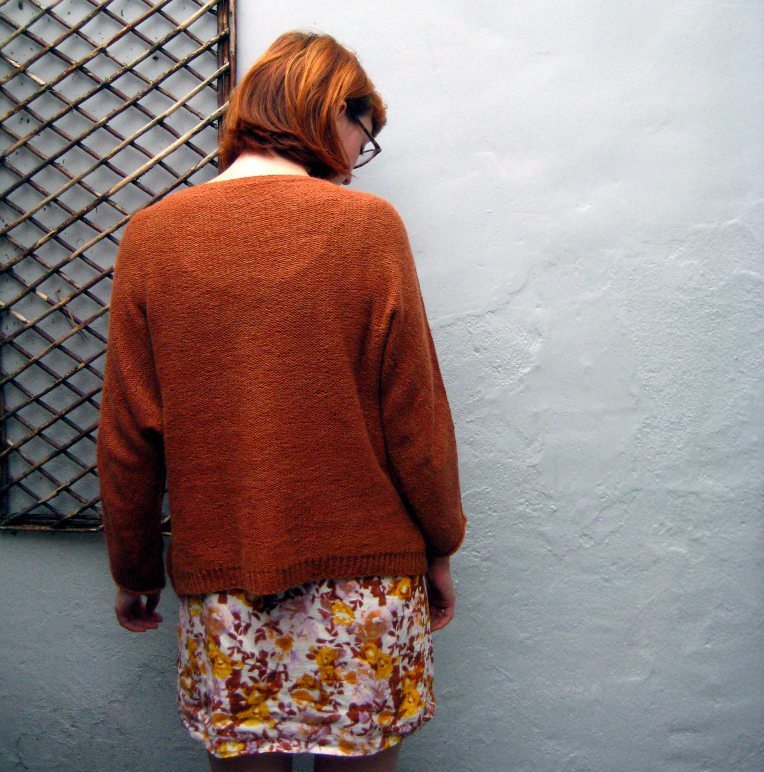 Veera's pattern has a really interesting construction with a heavy use of short rows to create the dolman sleeves. I always have trouble remembering which increases create left leaning or right leaning stitches, but just as I was getting annoyed at myself for having to look it up EVERY TIME, Karen from the wonderful blog Fringe Assosiation posted a neat trick to help you remember. And now I do, hurray! The pattern is written with the whole body being purled which, as a lot of you may agree, does not sound too fun so I joined team inside out and knitted everything instead. This was great, and I didn't even forget to do everything backwards which is something of a miracle.
I used Shilasdair Luxury 4ply in the colourway Wild Mushroom.  It is a really nice mix of wool and angora with smaller amounts of baby camel and cashmere, and it has a lovely rustic feel while still being nice and soft. My jumper turned out slightly on the large size, but definitely not in a bad way.  I am very much a positive ease type of gal, so this suits me down to the ground and it's perfect for throwing on when the wind decides to pick up.  The only other thing I noticed is that other people's sleeves seem to have come out quite a bit shorter than mine, maybe my gauge was off without me realising… Not that I am not happy with my length. I like that they are just the perfect length to see my watch without having to hike my sleeves up.
Did any of you join any of the Unwind KALs?  There are some lovely shawls flying around the ravelsphere… can anyone lay claim?