Another month another Pom pom trunk show. This time we will be exhibiting the Knit How collection for only just two weeks!
Since its release in November last year Knit How has established itself as the reference book for beginner knitters. Each chapter covers essentials techniques to take you from being a complete rookie to a confident intermediate level. The first section focuses on the very basics. How to choose your yarn, swatch, casting on, casting off, knit, purl, weave your ends and so on. Then it goes on to the patterns.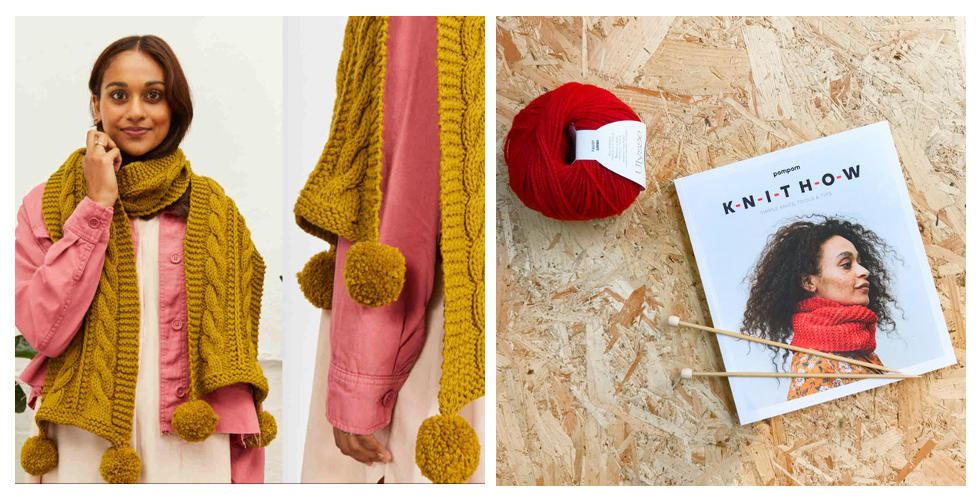 Each pattern comes with a new technique. By working progressively through the collection you will build the set of skills necessary to tackle any kind of intermediate projects. The book concludes with a section dedicated on fixing mistakes and knitwear care. Tutorials are numerous, clearly written and thoroughly illustrated.
Patterns in the collection are simple yet super pretty and wearable. These include jumpers, cardis, mitts, gloves, hats, scarves and socks. Some of them are designed in plain stockinette while some other features beautiful textured stitches and even cables. This goes on to show you how much can be achieved even with little experience.
Knit How can easily be matched to some yarn to create fun beginner kits. For example the Bobby and Mary cowls only requires two skeins of Malabrigo chunky. These would be suitable for people with little to no experience. For a jumper kit add 4 to 9 balls of De Rerum Natura – Gilliatt depending on the size. For a pair of socks 2 to 5 skeins of CoopKnits – Sock Yeah DK! – again depending on the size and number of colours.
Learning a new craft is always empowering and let me tell you nothing beats the feeling of pride that comes with completing your first project. Knit How will take you a step further by helping you grow into a confident knitter. Remember the Knit How trunk show will be with us for only two weeks so if you're interested in seeing any of the samples make sure to come by before November 6th.
Until Next Time… Happy Knitting!