My Caramel Latte jumper is knitted in Tarma Aran hand-dyed yarn by Fyberspates. I've had this pattern on my list for years, probably something like 9 years! I think what was stopping me from casting one was the thickness of the yarn needed. I tend to be drawn to light weight yarns and it's really taken me this long to find something in an aran/bulky weight that I really wanted to work with. The Tarma Aran came along and I fell in love with this deep indigo blue colour with sea green running through it.
PROJECT INFO
Pattern: Caramel Latte by Dani Sunshine
Yarn: Tarma Aran – Fyberspates
Size: 40" chest to fit with 4" of positive ease
Modifications: I followed the instructions for no waist shaping option. I knitted the collar shorter.
CARAMEL LATTE JUMPER PATTERN NOTES
I love Dani Sunshine's patterns. Her instructions are great and you just know you're going to get something really wearable at the end. The knitting required for the Caramel Latte jumper is really simple which is just what I needed when I started knitting it at 8 months pregnant and very tired. The simplicity means it would make an excellent knitting project for anyone wanting to knit their first top-down jumper. The squishy rib is very satisfying and Dani's instructions on wrap and turn short rows are really easy to follow. The pattern includes optional waist shaping so you can decide to keep it even more simple by choosing to miss that out.
My sleeves ended up a little bit long and one might even be slightly longer than the other. Something about sleeves and me just don't mix. Maybe one day I'll learn how long my arms are and knit sleeves the right length!
I finished this cosy jumper around May 2021 so it didn't get any wear until the next winter came around. I was a bit worried it would be heavy with this weight of yarn. I'm more used to using and wearing lighter yarns but I was actually pleasantly surprised how often I've reached for it.
The only real change I made was to knit the collar shorter than in the pattern but the neck is still lovely and warm and I like that I can wear it up or rolled down for quite different looks. Rolling it down I think gives it a boat neck feel. I really like that it has both options.
TARMA ARAN YARN NOTES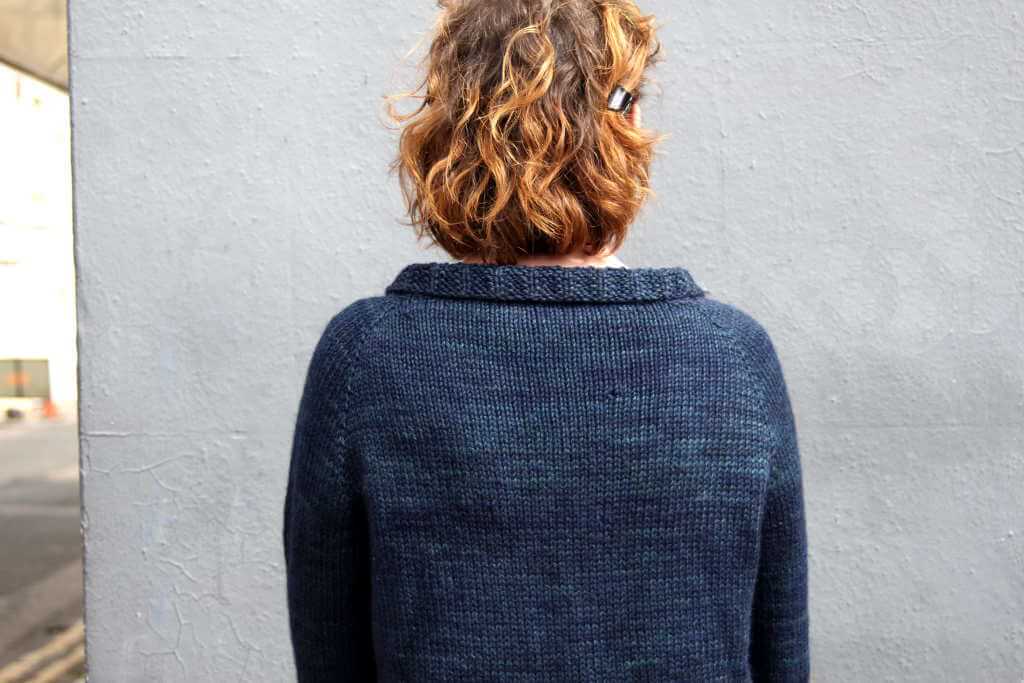 Tarma Aran was such a delight to work with. It's a really juicy alpaca and wool blend. Soft but not with the flop that some alpaca yarns can have. It's a hand-dyed yarn, dyed in the UK. And the dyeing is really lovely. The swaths of green running through the deep indigo blue are subtle but stunning. Because the Caramel Latte jumper is all over stocking stitch it really shows off the colour beautifully. It's the perfect canvas for a hand-dyed yarn.
I didn't alternate skeins and you can see in some of these photos there is a noticeable line of colour difference where I clearly changed skein. However, it's not really noticeable in real life and I didn't actually notice it until the photos were taken. A good reminder though that if you do want a better, more professional outcome when using hand-dyed yarn, it is always a good idea to alternate skeins However similar they look to your naked eye.
My jumper feels like a huge hug when I'm wearing it. If you're looking for your next project I can highly recommend both the pattern and the yarn.
MORE LIKE THIS

Pin this post to read later