The sun may be intermittent and the drizzle threatening in the grey skies might be putting you off slipping into your sandals but there are some glorious summer knitwear trends this season. Spring into summer may not be synonymous with those cosy knits we know and love but it is abundant in super cute polos, lightweight co-ords and those nerdy knitted vests that were popular in the autumn.
Before you raid the bathroom for last year's suncream – we have some perfect patterns for you to knit the trends. Here's our top 5!
OUR TOP 5 SUMMER KNITWEAR TRENDS!
#1 THE VEST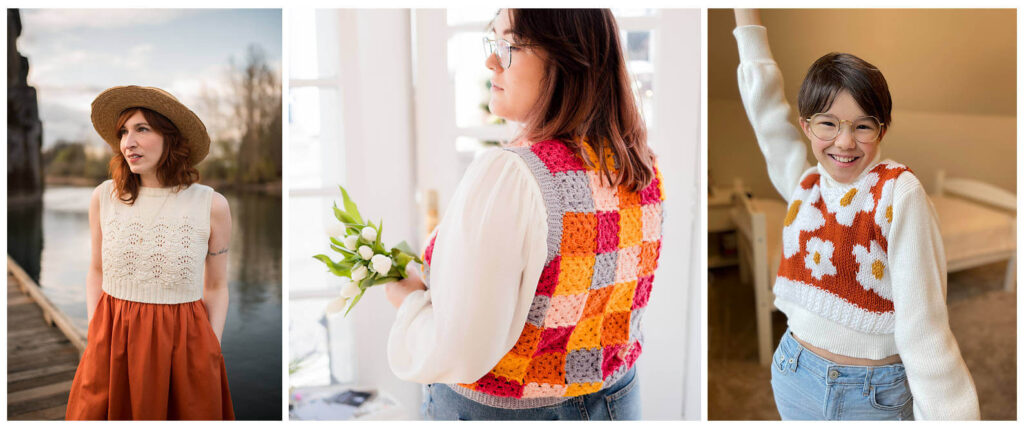 The knitted vest, the pullover, the slipover, whatever you want to call it, but we do know it's super cute and sticking around for summer. Be it a crop that you can wear as a sleeveless top, perhaps over a t-shirt or dress. Or maybe the slouchy over-sized fit tossed over a boxy shirt. You can find bold colours, graphic flower prints and crocheted patchwork salvaged from the scraps drawer. This versatile trend can transform any outfit in a flash.

Vest patterns to try
#2 FITTED CROPPED CARDIGAN
The refined feminine shape of these lightweight cardigans is a wardrobe essential for your summer knitwear stash. 3/4 length sleeves, crops that nip in at the waist and delicate textures feature in this trend. Whether you go for a boxy knit climbing with a ribbed cable, or a fitted delicate lace, they are the go-to item to pop over a dress or team with a high waisted trouser on those summer evenings in the garden.
Fitted cropped cardigan patterns to try
#3 SETS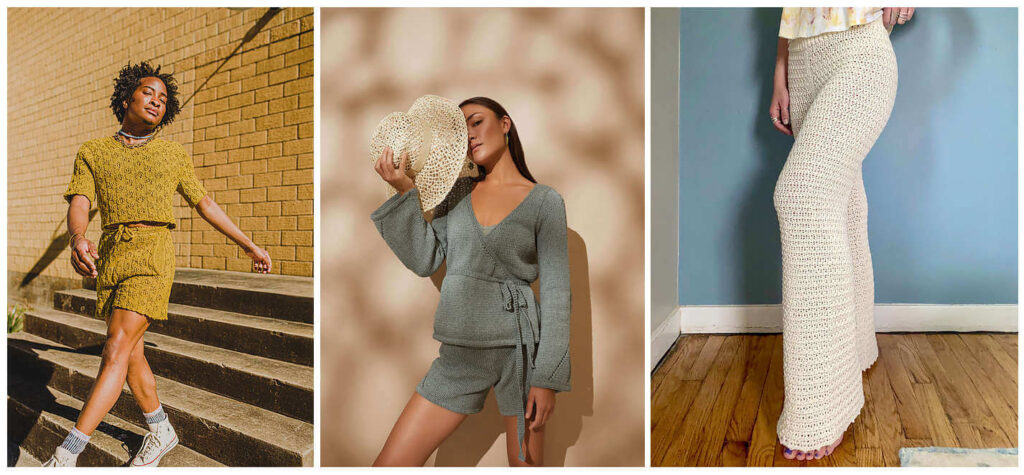 Bring in the bohemian summer vibes with oversized sunglasses, floppy hats and a kitsch knitted set. And if you're really feeling like a dose of the 70's, crochet yourself a pair of wide legged trousers. These cute knitted co-ords are a playful statement for the season and the lace work of the trousers make for the perfect layer over a swimsuit. Lightweight cotton blends keep this trend firmly in the summer knitwear category. Why not challenge yourself with drawstring ties or a much-loved pocket detail in a pair of shorts.
Set patterns to try
#4 LONGLINE CARDIGAN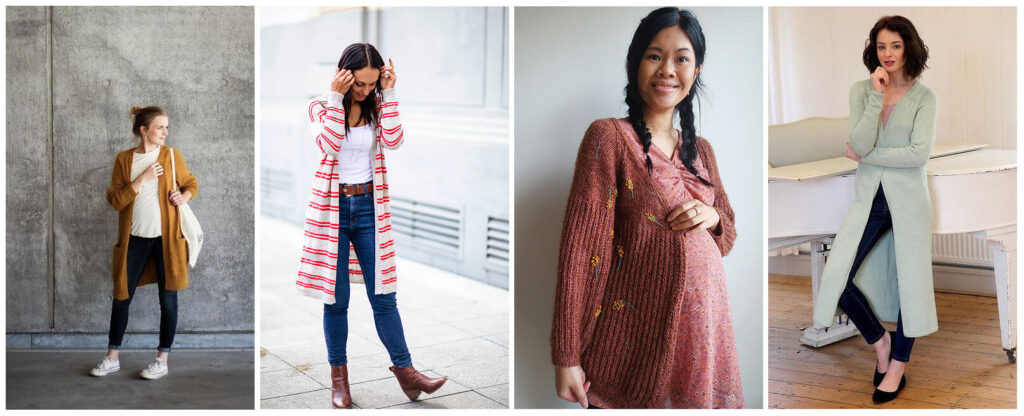 Looking for the perfect layer for those chilly summer evenings? When it's not quite cold enough for the coat and it's not quite warm enough for a t-shirt these cosy cardigans are just the tonic.
With an open front and a relaxed fit they are a must-have for any outfit. Be adventurous with colour, pocketed fronts or check out the embroidered details on the hibernation jacket pattern.
Longline cardigan patterns to try
#5 PREPPY POLO
Last but not least by any means we have the classic preppy polo. Easy to wear and knitted down to the hip these can be knitted up in stripes, in block colours or with a classy contrast edging. Go for the short sleeve, 3/4 length or even a slouchy full sleeved sweater but do not miss out the adorable collar and those button details. Swap out your thick cabled winter knits for something lighter that will see us through the summer with this retro polo.
Preppy polo patterns to try
So, there you have it. Our top 5 summer knitwear trends for 2022. One thing we do know about a British Summer is that it is changeable and our round up of knitwear trends will have you stylishly layering for every eventuality! And who doesn't love to layer…
Written by Alice Blundell
MORE LIKE THIS