In this blog post we'll walk you through 10 knitting and crochet patterns for your home, 5 of each. Making projects for your home is great for a couple of reasons. Firstly, unless you're planning on making a big blanket, they tend to be quite small and therefore quick to work up. Secondly, they can be great projects to use up left over yarn you might have lying around from previous projects. And lastly, why wouldn't you want your home full of knit and crochet accessories?! And if that's not enough to persuade you – lots of these patterns are free!
These projects would also make lovely gifts. Why not make up a few, then when it comes to gift giving season you're sorted? Its always handy to have projects like this ready to go.
Lets start off with something simple: coasters / pot holders. On the left we have the knitted version, the Easy Pot Holders by Junko Nakada. This project is ideal for knitters wanting to learn some new skills. The mitered square pattern includes an i-cord edge, and only uses 73-91 metres of yarn! The perfect stash busting project. The combination of super bulky yarn and 6.00mm needles will create a very thick, structured finish for these, ideal for protecting surfaces from heat.
Secondly, we have the crochet version, the Sunrise Coaster by Toni Lipsey. This pattern is a simple circle crocheted in the round, and finished with a scalloped edge. These would work up in no time! What's more, they would be very easy to customise to the size you want. Whether you want small coasters for your cups, or larger ones for dinner plates. Joy by Wooladdicts would work well for these.
Next up is perhaps the most obvious home decor piece to knit or crochet: pillow covers. On the left is the Graphic Striped Pillow Cover by Churchmouse Yarns and Teas. This simple knitting pattern showcases the texture of stockinette beautifully, for a really simple yet striking look. This pattern is designed for chunky wool so would work up quickly, a great project for beginners. Malabrigo Chunky would be a lovely soft option for this. You will need 480 metres and 6.00mm needles.
On the right is the Granny Square Cushion Cover by Marinke Slump. Granny squares are perfect for using up leftover scraps of yarn. They're also very beginner friendly. The customisable nature of granny squares means you could go for a very neutral look by making all the squares in one colour, or ultra colourful. This pattern requires aran weight yarn and 4.00mm crochet hook.
On to baskets! Baskets are a must-have for any household, and these two options could be used for a whole range of things. On the left is the Boqueria Basket by Vanessa Pellisa. This basket is knit in linen stitch, which combined with a worsted and lace yarn held together, and 4.00mm and 5.00mm needles, will create a strong sturdy fabric, perfect for a project like this. The Boqueria Basket would make a lovely every day bag as well as a basket for your home.
On the right is the Scrap Yarn Basket by Cintia Gonzalez. Four strands of DK yarn are held together for this and made with a 9mm hook, which would see results very quickly, and create a stiff, dense fabric. As the name suggests: this would also be a great project for using up all those strands of scrap yarn you have lying around. Different textures and colours from different types of yarn, would make for a really unique looking finished object.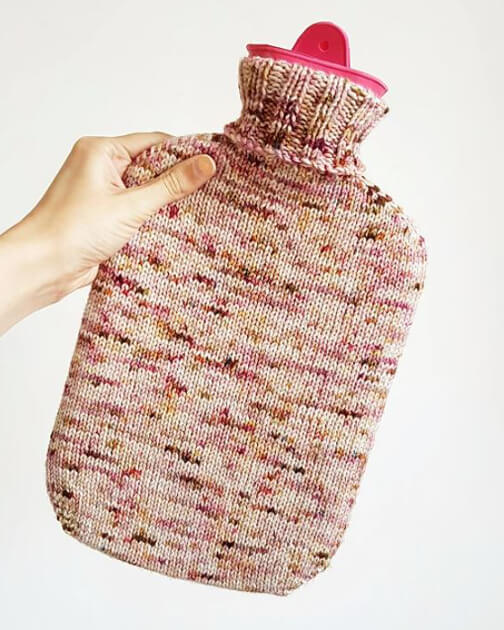 The next suggestion is a hot water bottle cover. The knitted version: the Hot Water Bottle Cover by Emily Bolduan, is a simple, sleek pattern that can either be made in the round or worked flat. Hot water bottle covers are a fun way to jazz up one of those boring items that we all have lying around, into an accessory that will add a homemade charm to the end of your bed. This pattern uses DK weight yarn – Terrazzo by Scheepjes would be a lovely option. This tweed yarn would give it a very classic, traditional look. Plus you'd only need two balls for this. Or, opt for a colour-changing or self-striping yarn that will upgrade the stockinette stitch into something really eye-catching!
For the crochet version, why not make the Vintage Cosy by Emma Varnam, also made in a DK weight yarn. Made up of only ten granny hexagons, this pattern would take no time at all and is another great stash buster. Although if you want to treat yourself to some new wool, Genmou by Daruma is a really bright, fun colourful range of merino DK that would work well for this pattern.
Lastly, for those who might want a bigger project to work on is of course a blanket. Blankets are an essential part of every household, and a home-made blanket has that extra special quality. Making a blanket is a real test of stamina, but the results are definitely worth it. For the knit version we have the Garter Rib Baby Blanket by Orange Flower Yarn. This simple combination of knit and purl stitches makes a lovely pattern that a beginner could easily achieve, made in a DK weight yarn. Merinoull by Sandnes Garn is perfect for blankets as it's very soft, and also machine washable!
You can't go wrong with a granny square blanket, it's a timeless classic. The Battenberg Blanket by Sandra Paul is a fun take on this. Using filled in granny squares made in solid colours in a checkered pattern, gives this blanket an almost edible look (as the name would suggest!). This pattern is made with fingering / 4ply yarn and 3.00mm hook. Although the size of this blanket may look daunting, why not make one or two squares a day when you have a spare 20 minutes, and have it as a longer ongoing project to run alongside other smaller projects. Using granny squares also means the size is totally customisable. Make a smaller one for a baby cot, or a larger one as a throw.
And that's it! We hope there's something in here for everyone and that you feel inspired to make something for your home. Happy crafting!